September 2
.
One of the joys of reading blogs is getting to know people, doggies and kitties all over the world.  It amazes me how quickly you can make new friends and how deeply you can feel for them.  It is a tremendous blessing, but along with the pleasure comes the heartache when you have to say farewell.  I am feeling that heartbreak because my friend, Sue, had to say good-bye to her beautiful girl, Song Song Blue…Song to her many friends.
So today, I am pausing to say farewell and pay tribute to my friend.  Song, we will miss you so much.  Here is how I will always remember you…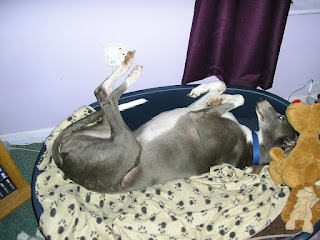 As a champion roacher.
In your Grandpa's garden, with your friend, Maggie.
Tipped in white.
A noble hound.
Sue, I imagine that Song would say this to you if she could…
Grieve not,
nor speak of me with tears,
but laugh and talk of me
as if I were beside you…
I loved you so –
'twas heaven here with you.
Ilsa Paschal Richardson
Farewell, Song Song Blue…'twas heaven here with you.
 Daily Inspiration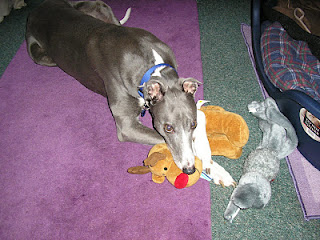 Song Song Blue, February 16, 2003-August 31, 2012
How lucky I am to have something that makes saying goodbye so hard.
From the movie Annie
If you would like to offer condolences to Sue, please visit her at Graceful Greyhounds.