November 17
.
Inspiration:
Better Homes and Gardens Special Interest Publication (Holiday Crafts 2011) – Pg 87 (Door Prize)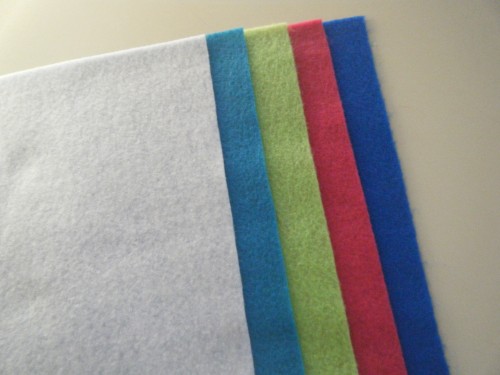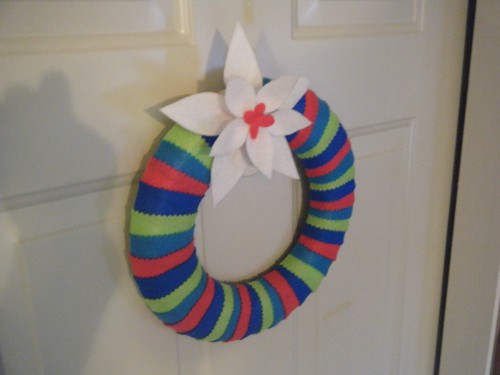 Supplies:
 Felt (I used fuchsia, lime green, turquoise, royal blue and white)
12-inch-diameter beveled styrofoam wreath
Pinking shears
Scissors
Straight pins
Glue
Light cardboard for poinsettia leave pattern (not shown)
Pen (not shown)
 
1.  Using the pinking shears, cut eleven 1″ x 7″ strips from each of the four felt colors.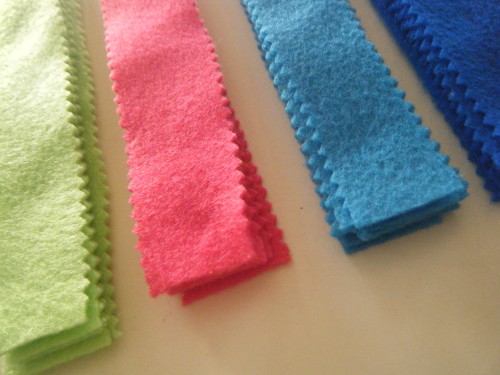 2.  Wrap the strips around the styrofoam wreath with each strip slightly overlapping the previous strip.  Pin strips to the back of the wreath.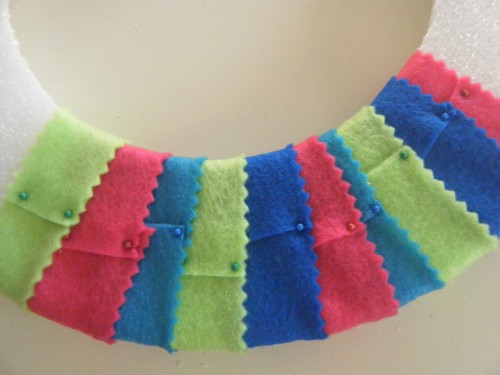 3.  Cut a large and a small poinsettia leave pattern from the light cardboard.  Trace the pattern on the felt.  Cut out the leaves (I cut out five large and five small).  Cut out a circle base to glue the poinsettia leaves on.
4.  Dab fabric glue on the base of each poinsettia leave and pinch it together.  Let the glue dry.
 
5.  Glue the poinsettia leaves on the felt base.  Cut out four small circles in a contrasting color for the center of the poinsettia.  Glue the circles in the center of the flower.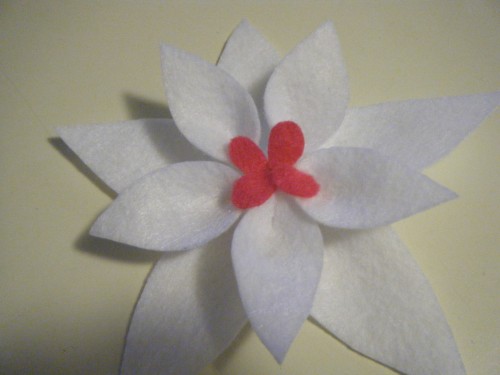 7.  Pin the flower on the wreath.  It's retro, it's in the colors you choose and it's lightweight and easy to store.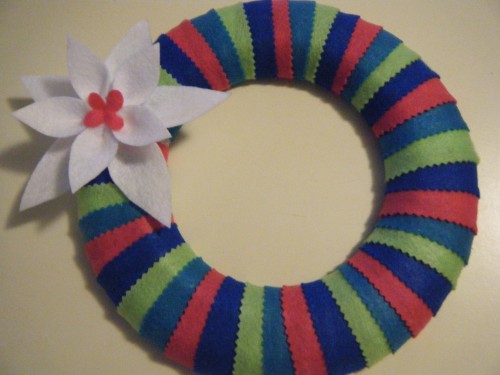 Art Every Day Month – Day 17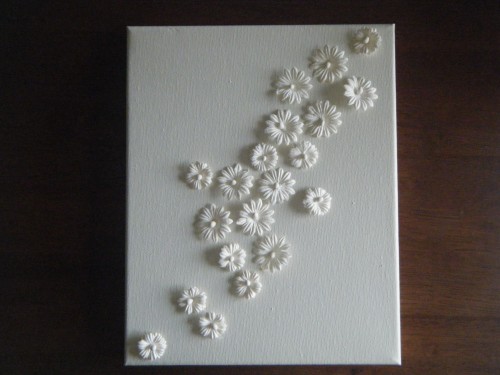 Ivory on Ivory Canvas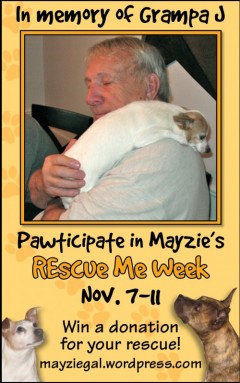 SPECIAL ANNOUNCEMENT – WE WON!
Last week, we participated in Mayzie's Rescue Me Week challenge, and we won!  Thanks to Mayzie and her mom's desire to honor Grampa J, who loved and cared for animals his whole life, 233 animals who are looking for their forever homes, were featured on different blogs.  A random drawing was held, and five posts won $100 for the rescue group of their choice.  You can read about the drawing on Mayzie's blog, Rescue Me Week – Grand Finale!  My post, featuring Vandyke, was selected.  I was playing for Freedom, Casper and Nikki's rescue group, Allies for Greyhounds of West Michigan.
It was a lot of fun to participate in the challenge and awesome to win, but it was also a reminder of the beautiful nature and generosity of a life of kindness and compassion.  Grampa J passed away this year, but his legacy lives on and continues to touch and help animals who want nothing more than a place called "home."