May 6
.
Last Friday, we traveled to Gettysburg, Pennsylvania to attend Greyhounds in Gettysburg.  We were honored to have a special guest go with us…Flat Max of Max The Quilt Cat.
 
"No, Flat Max.  I don't think it's a good idea for you to drive.  Thank you, though."
 
"See how comfy it is riding with greyhounds.  They're very cat-like in their appreciation of a good nap."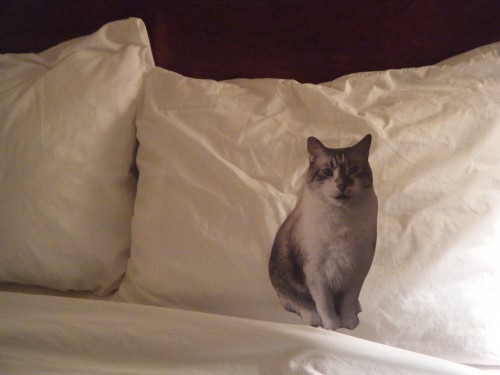 When we arrived at the hotel, Flat Max had a few concerns.
"Of course you get to sleep on the bed.  You're a kitty and kitties always get the best sleeping accommodations."
 
Flat Max was still getting to know us.  He was a little concerned about our style.  He showed me his stylish rain coat.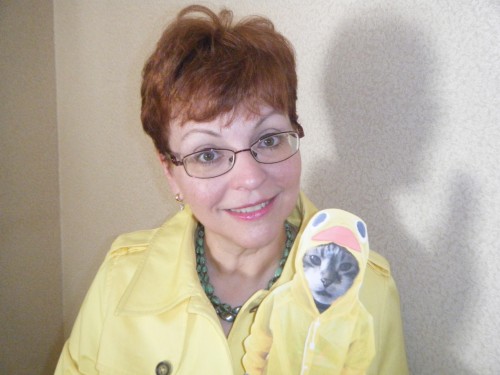 Imagine his delight when he saw my coat.  All fears were put to rest.  Flat Max knew he was in good hands.
 
Flat Max was ready to go.
 
Saturday, we went shopping at The Outlet Shoppes at Gettysburg where the Greyhounds in Gettysburg vendors were located.
"Be careful, Flat Max!  That's pretty high up."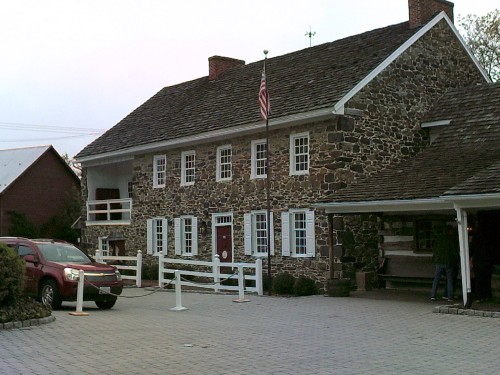 That evening, we took Flat Max to The Dobbin House.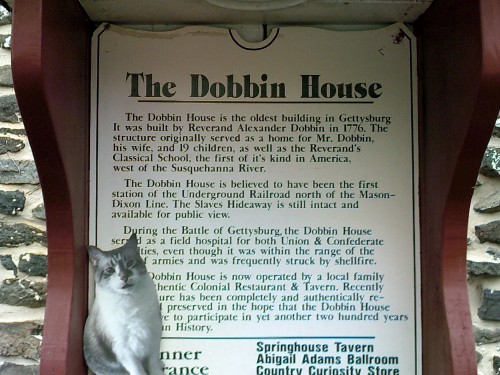 The Dobbin House is the oldest building in Gettysburg.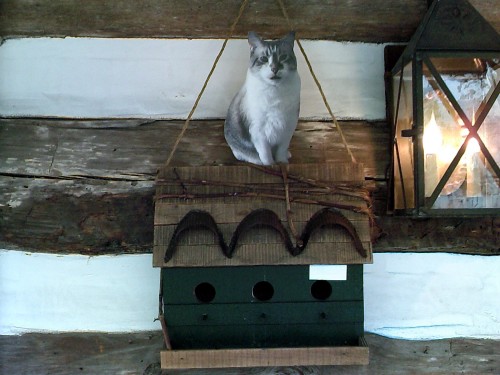 "No, Flat Max; that's not The Dobbin House.  We're going inside to eat." 
Sunday, we drove around portions of the Gettysburg battlefield.
 
Flat Max enjoyed looking at the cannons.
 
And, the long lines of snake rail fences.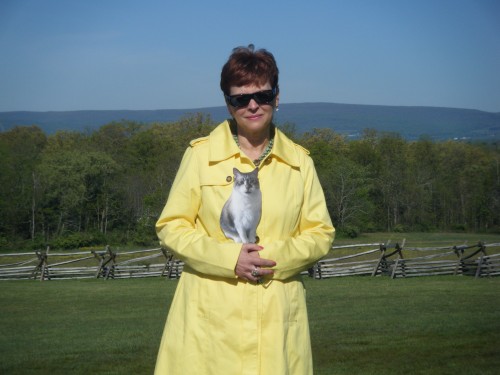 Flat Max and I were both overwhelmed with the privilege of standing on this hallowed ground where the fate of the United States was secured through the sacrifice of so many.  May God Bless America.
We had a great time traveling with Flat Max.  I hope he'll join us on future travels.
Daily Inspiration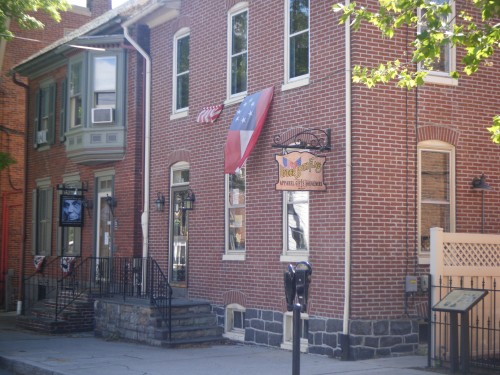 With malice toward none, with charity for all, with firmness in the right, as God gives us to see the right, let us strive on to finish the work we are in, to bind up the nation's wounds.
Abraham Lincoln