May 11
.
Casper, Zonda, Miura, Freedom and Nikita, or as Casper likes to think of it…Casper and his ladies
Having friends is one of the best things in life and something that keeps us happy and healthy.  I think the same holds true for our dogs.  Freedom and Casper have three friends that they get to see regularly and several more that they get to see on occasion.  Every great friendship starts off with an introduction.  I recently ran across an article from the Greyhound Adoption Center entitled, "The Right Way to Introduce Dogs."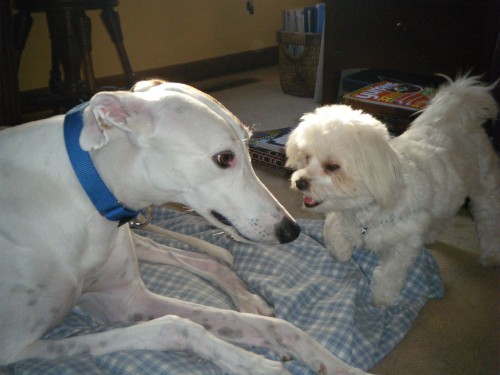 It was important to make sure that Casper knew Emma was a dog and not a lure with legs.
Here are a few pointers:
1.  Always introduce dogs on neutral territory.
2.  Make sure the dogs are on a leash when they meet.
3.  If you are tense, your dog will feel it.  Talk to your dog in a confident, reassuring voice throughout the meeting.
4.  Introduce the dogs, head to butt…keep talking during the introductory sniff-fest and try to maintain three to four feet of leash so you are in control.
5.  If possible, go on a walk with the dogs after the initial introduction until you know that they are friends.
What do you think?  How do you introduce your dog to other dogs?