June 4
.
What do Greyhounds and fruit have in common…fruit crate labels.
Fruit crate labels first appeared in the 1880s. The transcontinental railroad made it possible for California fruit growers to transport their product thousands of miles away and they needed an effective way to identify and advertise their product. They developed a wood shipping box about 12″ x 12″ x 27″ and used a brightly colored, attractively designed paper label on the box end. These labels became key to the growers' national marketing strategy.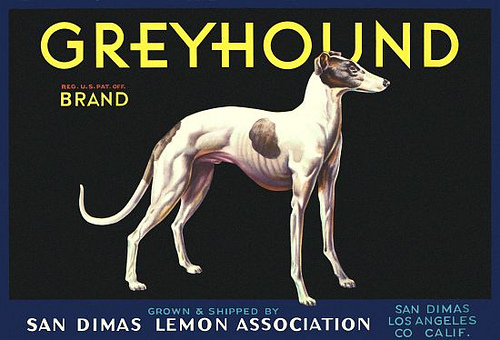 San Dimas Lemon Association
San Dimas is located 30 miles east of Los Angeles. The San Dimas Lemon Association was incorporated in 1900 and operated until 1963.
Growers and packers created their own labels. The images they chose related to their special interests or were designed to call attention to their product in the face of hundreds of competing brands. In the hands of a good artist and a talented graphic designer, the fruit box label became an elegant small poster, containing an easily understood and remembered message. The collaboration between fruit grower and commercial artist led to thousands of different label designs and a huge variety of subjects.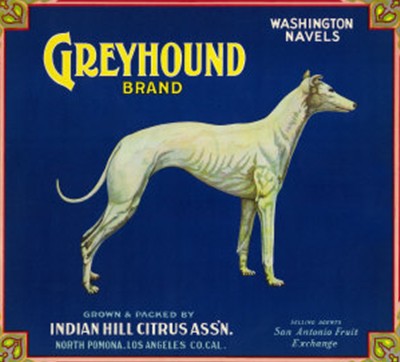 Indian Hill Citrus Association
Located in Claremont, California, Indian Hill Citrus Association was one of the associations that was involved in the start of the California Sunkist marketing system.
The use of the paper labels ended in the mid-1950s, when cardboard boxes with pre-printed labels came into circulation.
Source: McClelland, Gordon and Last, Jay T. Fruit Box Labels: An Illustrated Price Guide to Citrus Labels. Santa Ana, Calif.: Hillcrest Press, Inc., 1995.
T. Apkarian & Sons
T. Apkarian & Sons was located in Reedley, California, approximately 25 miles southeast of Fresno. Reedley dubs itself "The World's Fruit Basket."