August 18
.
Inspiration:
FreshStyle (Summer 2011 – Southern Lady Special) – Pg 27 (Color Wonder)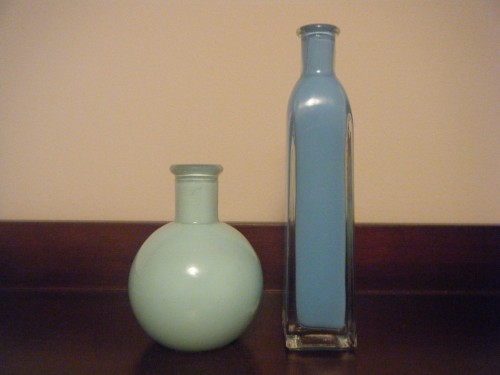 Supplies:
Glass vase
Glass paint
Rubbing alcohol
Drying rack (I used a cookie rack)
Plastic bag (something to catch paint drips)
1.  Clean the vase and rinse the inside with rubbing alcohol.  Allow to dry.
 
2.  Pour paint into the bottle and shake it around.  I found it helpful to tamp the vase on a folded towel to move the paint around.
 
3.  Allow excess paint to drip out.  I found the Martha Stewart paint thick, so I didn't have any drip out.  Allow to dry.  The glass paint needs to cure for 21 days. 
4.  Isn't it lovely!  A fun, easy way to make a cute home décor accent.