August 30
.
Back in May, I ran a series of five questions that were meant to get you (and me) thinking about memorabilia and hopefully identifying some of the special treasures.  When I originally posted these questions, I didn't answer them, but now I am.  Here's the fifth (and final) question:
Think of 5 favorite people in your life; what is a special thing that represents each person for you?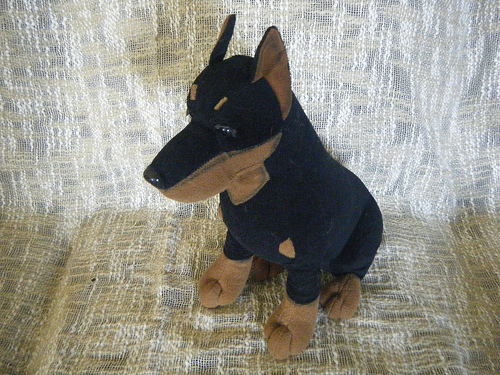 1.  My Daughter – Toma
Toma was my daughter's favorite stuffed animal.  She loved Doberman Pinschers and always wanted a stuffie that was sitting in this position.  To me, Toma symbolizes many aspects of her childhood.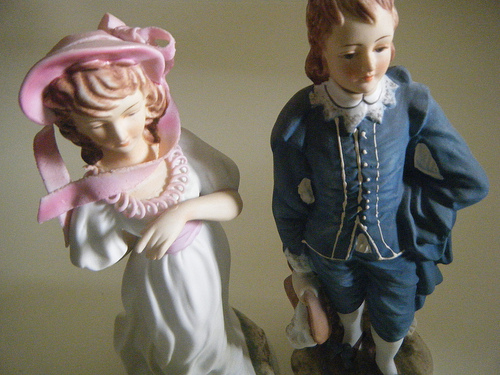 2.  Mom – Pinkie & The Blue Boy
My mother kept these in her curio cabinet.  I always thought they were beautiful, and I was proud of my mom for having such good taste.  She gave them to me because I loved them so much.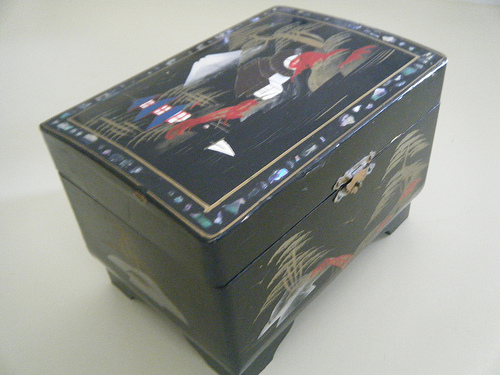 3.  Betty – Jewelry Box
Betty was a family friend who influenced my life in a profound way.  I wrote a tribute to her here.  I don't have many "things" from Betty, but I do have this jewelry box.  I bought it at our church rummage sale.  I don't remember if it was Betty's or if she just sold it to me, but I've always associated it with her.
4.  Ellen – ?
I'm still working on this one.  Ellen is my best friend.  We met in kindergarten.  The first thing that came to mind was a little leather souvenir.  When we were in grade school, Ellen and I wanted to trade something.  The little leather souvenir was what Ellen gave me in the trade.  The problem is, I may have given it back to her. Ellen…I think you need to buy me something really fabulous to remember you by.  See me for ideas.
5.  Dorothy – Avon Egg Box
Like Betty, Dorothy was very influential in my life.  I wrote a tribute to her here.  She was an Avon Lady, and I would help her visit customers and sort and package her orders.  This egg is from Avon and one of my favorite things.
Daily Inspiration
 
It is my feeling that Time ripens all things; with Time all things are revealed; Time is the father of truth.
 
Francois Rabelais
 
About the photo (taken on August 26)…I took this photo in the garden of the Oliver Mansion where I volunteer as a docent.  I believe it's a chain and padlock to secure a garden bench.  I love how old it looks laying on the bricks.