August 2
.
Back in May, I ran a series of five questions that were meant to get you (and me) thinking about memorabilia and hopefully identifying some of the special treasures.  When I originally posted these questions, I didn't answer them, but now I am.  Here's the first question:
If I died today, what 5 things would you want to keep to remember me by and why?
I asked my daughter this question and here's what she picked:
1.  Matryoshka Doll
I started collecting Matryoshka dolls for my daughter when she was a young girl.  Her (our) collection is small, but we've got some real beauties.  This is the one she would choose because it is the most intricately painted.  She's really glad she gets to keep them all.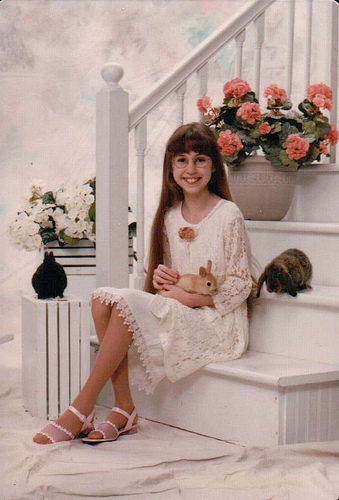 2.  Photograph
Not this picture…this was the runner-up.  The picture that she would keep, she already has.  It's a snapshot of my face, and I'm laughing really hard.  It's how she see me.  This picture was the runner-up because I made her sit still and smile while those precious little bunnies were biting her.  We joke that she was made to pose for this picture while the bunnies ate her alive.  If nothing else, I provided my daughter with precious childhood memories.
3.  Frog Bookends
I've collected frogs all my life.  If she had to pick one thing, she would pick these bookends because she remembers them being around the house all her life.
4.  Knitted Owl Sweater & Skirt Set
This is a special item from both me and my mother.  Believe it or not, this was my mom's first knitting project.  She wanted to learn to knit, so she had a friend teach her.  She made me this sweater and skirt set.
I wore the ensemble for my kindergarten Christmas party.  This is a picture of me and my kindergarten teacher. 
My hands are all twisted funny because I was nervous (and excited) about getting to stand so close to my beautiful, young kindergarten teacher, whom I was deeply in love with.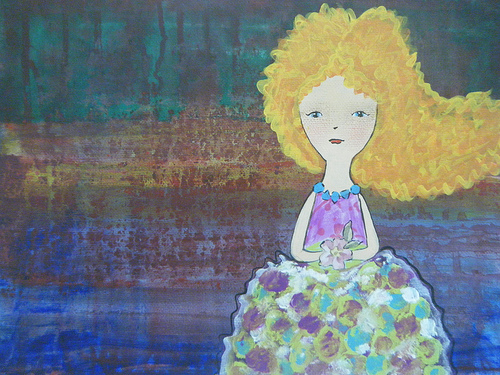 5.  My Favorite/First Painting
My daughter picked this painting because it's my first and favorite, and she loves this period of my life…so do I.
Daily Inspiration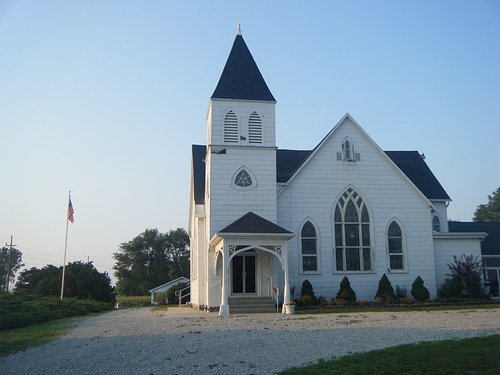 I travel a lot; I hate to have my life disrupted by routine.
Caskie Stinnett
About the photo (taken on July 30)…This is another photo I took on my way down to visit my daughter at Purdue University.  This is Bethlehem Presbyterian Church just outside of Metea, Indiana, and one of the most beautiful country churches I've ever seen.  The photo above is taken from the westside.  If you'd like to see how the church looks from the road, you can look at the Daily Inspiration photo on April 24.  Before my daughter leaves West Lafayette, Indiana, I plan to go to a Sunday service.