August 9
.
Back in May, I ran a series of five questions that were meant to get you (and me) thinking about memorabilia and hopefully identifying some of the special treasures.  When I originally posted these questions, I didn't answer them, but now I am.  Here's the second question:
What 5 special things would you grab in a fire?
I decided to focus on handmade items.  I have many things that are very precious to me, but these things are truly one-of-a-kind.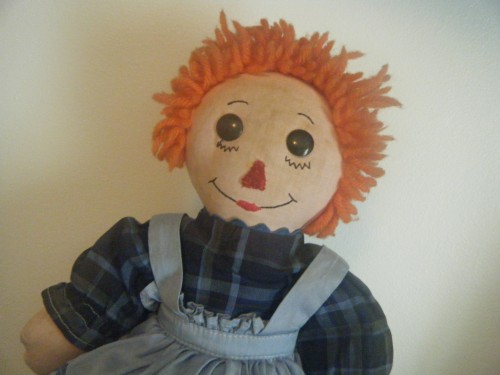 1.  Raggedy Ann
My mom made this for me when I was little.  I love all the work, craftsmanship and love my mom put into this little doll.
2.  Quilt
My grandmother made this for me and it was on my bed when I was young.  It features sunbonnet girls.  A funny thing…it took me years to see that these were sunbonnet girls.  I thought they were some unusual creatures with the sunbonnet being the two eyes, the arm and hand being the nose and the skirt being the body.  When I look at this, I still see the little creature first.
3.  Oil Painting
You may remember this painting from my July 12 post.  This hung in the hallway of the home I grew up in.  The painting belonged to my Great Aunt Mame.  It was painted by one of her friends.  Unfortunately, it's not signed.  I'm hoping that my mom or dad will one day remember the name of the artist.
4.  Birch Watercolor Painting
This was a wedding present to me from my uncle and aunt.  It was painted by a friend of my cousin.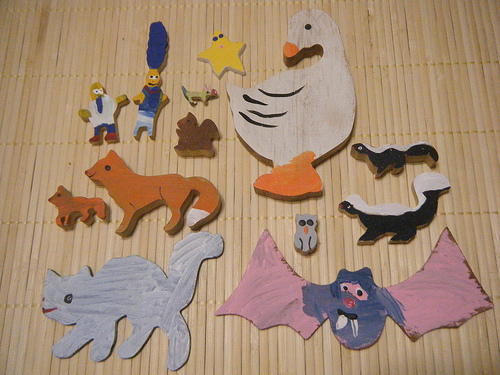 5.  Little Wooden Animals
My mom cut out these little shapes for my daughter who painted them when she was 3-years-old.  I realized very early on that my daughter was an artist with a very good eye for detail.
Daily Inspiration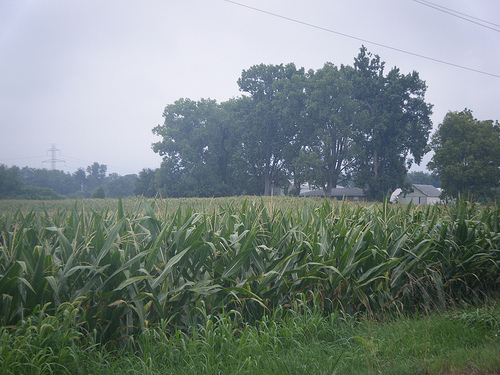 The first week of August hangs at the very top of summer, the top of the live-long year, like the highest seat of a Ferris wheel when it pauses in its turning. The weeks that come before are only a climb from balmy spring, and those that follow a drop to the chill of autumn, but the first week of August is motionless, and hot. It is curiously silent, too, with blank white dawns and glaring noons, and sunsets smeared with too much color. Often at night there is lightning, but it quivers all alone.
Natalie Babbitt, Tuck Everlasting
About the photo (taken August 9) …From home to work and back again, I drive through miles of farmland.  I love the wide open fields.  They feel like home.