August 23
.
Back in May, I ran a series of five questions that were meant to get you (and me) thinking about memorabilia and hopefully identifying some of the special treasures.  When I originally posted these questions, I didn't answer them, but now I am.  Here's the fourth question:
Think of 5 favorite events or periods in your life; what 5 special things represent those times?
 
1.  Charlotte's Web
(Becoming a Lifelong Reader) Charlotte's Web is the book I credit with making me a lifelong reader.  My 3rd grade teacher read aloud a chapter every day, and I was captivated by the story.  I loved it so much, my mom bought me a copy of the book that I still own.
2.  Ardmore Award
(School Years)  I went to a small elementary school and it was a good experience with many happy memories.  The Ardmore Award was given to one girl and one boy of the graduating 6th grade class.  I won and was honored to receive it.  Since I'm allergic to competition, it's one of my only awards.
3.  Frog Trinket Box
(Motherhood)  My daughter's dad bought this for me in the hospital gift shop when she was born.  I collect frogs, so it was a perfect little gift.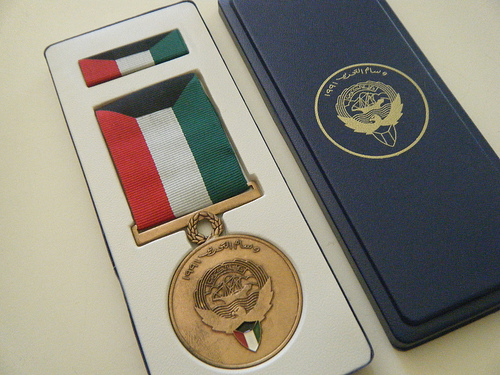 4.  Kuwait Medal
(Hardest Thing I Ever Did) – Five months after my daughter was born, I was sent to Saudi Arabia for the Persian Gulf War.  Leaving her was the hardest thing I ever had to do, but as is so often true, many good things came from it.  The thing I'm most thankful for, the relationship that was forged between my daughter and her dad.
5.  Mission Bell
(Marriage) – My husband and I met and married in California.  Much of our courtship and honeymoon centered around a portion of the California Mission Trail (El Camino Real – The Royal Road).  The idea of placing the Mission Bell Guideposts as markers along the highway and in front of each Mission came about in 1906.  This is a souvenir and a sweet reminder of a romantic time.
Daily Inspiration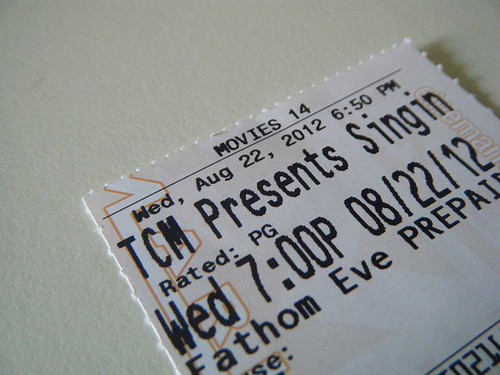 There's no such thing as bad weather, only unsuitable clothing.
Alfred Wainwright
About the photo (taken August 23)…Last night, I went to the movie theatre to see Singin' In The Rain.  I'd never seen this movie, let alone on the big screen.  It was a delight.