February 5
.
"A first aid kit is a good thing," says Freedom.
Way back in April 2010, I wrote a post about a first aid kit I was putting together for the hounds. Time to check it over. Here is a list of the items I wanted to put in the kit. Â I highlighted in red the items that have "gone missing" or that I never got around to including.
First aid kit is "ready to go" in the linen closet
Gauze Roll and Pads
Vet Wrap
Instant Cold Pack
Styptic Powder
Saline Solution
Hydrogen Peroxide
Scissors
Hand Sanitizer and/or disposable gloves
Bulb Syringe
Measured Dropper
Soft Muzzle
Small blanket for moving an injured dog (especially important with a large breed)
Flashlight
Photos (in case a houndie gets lost)
Extra Leash
I'm going to take Saline Solution off the list because I can't think what I would need it for as long as I have Hydrogen Peroxide.
A nice container keeps everything handy
Things I've added to my kit:
Thera-Paws – I have two for Nikki, who suffers from corns, and one for Freedom and Casper, "just in case."
Pawz (waterproof rubber dog boots)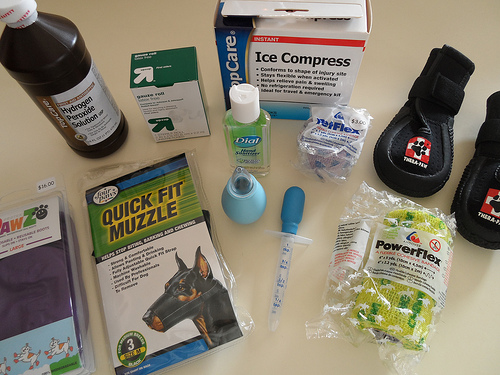 Ready for a variety of ouchies
Things I want to add:
EMT Gel
What do you have in your kit?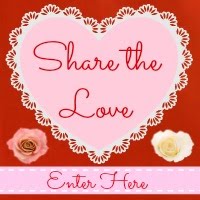 On Saturday, I mentioned that Ann from Pawsitively Pets is hosting a fundraiser. I joined in and ordered badges for Freedom, Casper, Nikki & Twinkie. I told Ann that I would like four individual badges or one badge with everyone included. I was going to wait and reveal the badge(s) on Valentine's Day, but IT IS SO COOL I CAN'T WAIT! Ann…you are pawsome!
Want one of Ann's creations made just for you? Here are the details of the fundraiser:
From now until February 11th, 2013, you can donate $1 (US Dollar) towards the Share the Love fundraiser. In return, she will make you a Valentine's Day graphic/card with your pet on it. So not only will you be donating for a good cause, you also get something in return!
Wondering which charity will receive the funds when it's all done? That's the even better part! After the fundraiser is over, Ann will add the names of everyone who purchased a Valentine's Day graphic into random.org and choose a random name. That person will select their favorite pet rescue or charity and all of the proceeds will be sent off to them!
If you would like a Valentine's Day graphic and a chance to win a donation for your favorite pet rescue, you can donate your dollar at the Chip-In HERE. Please leave a comment on Ann's Share the Love post HERE, telling her that you've donated and which pet you want to be included on your graphic. Also, leave the name of the charity you want the funds to go to should you win.
If you want a certain picture to be included on the graphic, you can email Ann at annstaub at yahoo dot com. Any super special instructions can be emailed as well. Otherwise, she'll find an image on your blog or facebook page. But, you don't have to have a blog or facebook page to participate, just email Ann a photo.
If we win, the funds will go to Allies for Greyhounds of West Michigan.