May 18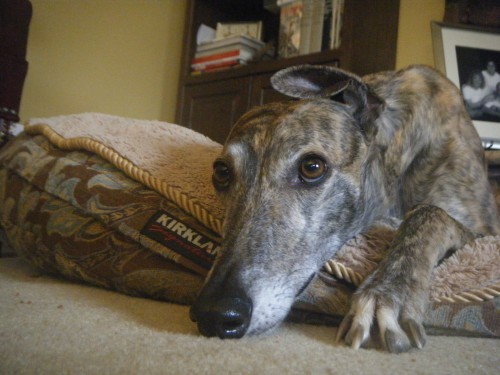 Saturday, May 14th was Freedom's 4th Birthday!  Happy Birthday, Freedom!  Freedom's racing name was Free Spitfire.  We thought about changing her name when we got her…because Freedom didn't sound like a good "girl' name.  We tried Sara, Beanie and several others, but none of them seemed right.  Finally, I was calling her "our girl doggie."  It was at that point, we had to admit that "Freedom" was the right name for her.  Freedom is confident, independent, friendly, lovable and sometimes a little bratty (in the best kind of way).  We often ask ourselves, "Where would we be, without our Freedom!" (best said with a Scottish accent in the tradition of Braveheart…blue face paint not required).
When I announced I was doing 4 Faves – Friends Version in May, my friend Amy brought over some of her favorite things to show me.  While she was showing me her favorite Kyjen dog toys, Freedom came over and gently took the toy from Amy and proceeded to play with it.  That's a pretty good recommendation; so I bought some for Freedom, for her birthday.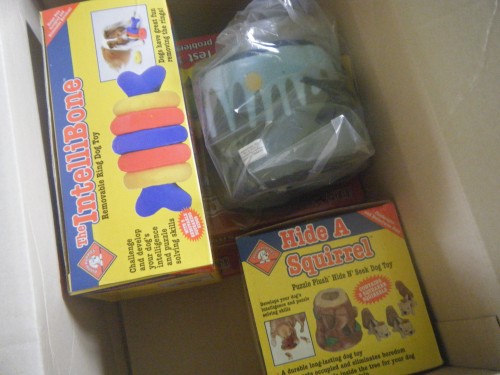 Greyhounds are fun to buy toys for because they LOVE toys.  Our first greyhound, Paloma, loved toys…she loved them to DEATH.  The objective for Paloma was simple.  Find the squeaker, kill the squeaker, remove the squeaker and finally, remove all the stuffing.  Done.  Next, please.  We never found a toy, no matter the price or the promise, that Paloma couldn't accomplish her mission on.  There was only one qualification for Paloma's toys…cheap.
Freedom and Casper are gentler with their toys, so it's fun to buy them nicer toys.
Kyjen toys are durable (remember, that is a relative term), have sewn on eyes, and they're interactive.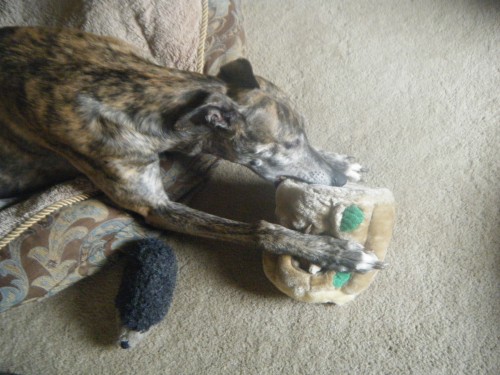 Freedom and Casper both enjoyed the new toys.  The birthday fun didn't stop there.  They both got a birthday bath and then a favorite treat…ICE CREAM!  Happy Birthday, Freedom!