May 28
.
I'm in the dog house because I missed Freedom's birthday. Freedom turned 6 years old on May 14! Here's a little tribute to Freedom:
F – Feisty
On a visit to Wolf Park, the guide explained to us that in a wolf pack, dominance doesn't always relate to size and strength. Often it has more to do with attitude. I had to chuckle because Freedom has attitude+.
R – Rebellious
There is a little rebellious streak in Freedom. I'm confident that she's not convinced that the humans should be running the household. When my husband tells the pups to go lay down, Casper and Nikki go nicely to their beds. Freedom, on the other hand, will go over to her bed, circle around it but stay standing. If it's important and my husband insists, he has to go over to her and repeat the command. Then, slowly, reluctantly, she'll lay down. I probably shouldn't, but I kind of get a kick out of her sweet stubbornness.
E – Eldest
Freedom is our oldest.
E – Enthusiastic
Freedom is always ready and enthusiastic…for anything. When I come home, she does the cutest little hopping up and down on her front legs. She's even taught this move to Casper. I ignore it because I like to keep homecomings as calm as possible, but it always makes me smile.
D – Dominant
Freedom's the boss and she runs a tight ship.
O – Odd
Freedom has the cutest crooked ear and a bald neck, chest, tummy and butt. One of the greatest lessons the pups have taught me is to be comfortable in my own skin. Humans spend so much time wishing and trying to be "something else." Not so with our pets. Makes us seem silly.
M – Marble Eyes
When she turns these eyes on me, I melt.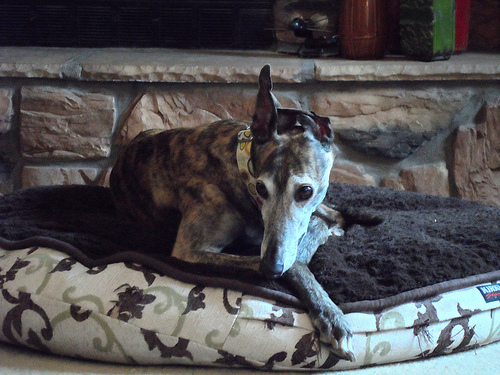 Happy Birthday, Freedom! I love you.