March 2
.
This was the last week of Juliette Crane's How to Paint a Girl E-course.  The lessons this week included a review, information on finishes and end-of-class goodies.  Remember this girl?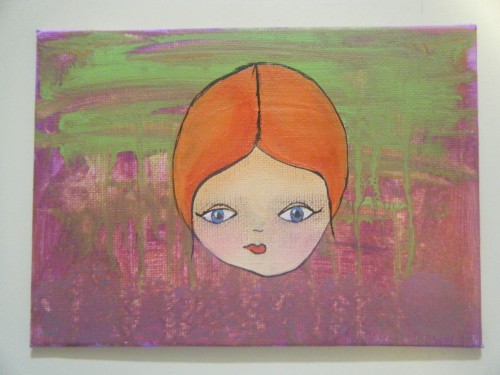 Now, she's this girl.  I wanted to play around with a "punk" hairstyle, so I decided to remake one of my girls who wasn't speaking to me.
I also started a new girl…but she still needs a face.
I enjoyed this course immensely.  The instruction was first-rate, plus Juliette includes much more…inspiration, life as an artist, a photo gallery where you can display your paintings and see what your classmates are doing, and a discussion area where you can ask questions and get feedback..  For me, the best part of this e-course was watching the videos of Juliette creating her girls.  It was great to see her work, and it was wonderful to watch Juliette re-imagine and re-make her girls if she wasn't satisfied.  If you're thinking of taking this course, it gets my highest recommendation.

Now what?  I must say, I'm REALLY tempted by Juliette's next course How to Paint an Owl  which start on March 30.  Hmmm…decisions, decisions.
Daily Inspiration
Art is not a handicraft, it is the transmission of feeling the artist has experienced.
Leo Tolstoy