November 16
.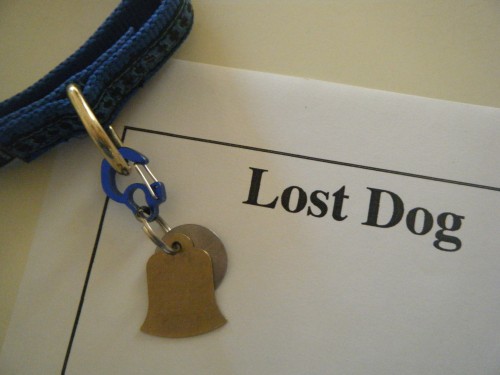 Have you ever experienced a lost pet?  We haven't, but we had two "close calls" both involving Casper.  The first time, our backyard gate was left open, and the second time, I walked out of the house and didn't close the door all the way.    Fortunately, he didn't make it too far before we got him back, but both times were terrible when they happened.
Before we went to Dewey Beach, I had Freedom, Casper and Nikki microchipped.  A microchip implant is an identifying integrated circuit that is placed under the skin, usually at the back of the neck between the shoulder blades.  The chips are about the size of a large grain of rice and are encased in biocompatible glass.  Microchips use passive RFID (Radio Frequency Identification) technology and contain no internal power source.  They are designed to not act until acted upon.  Most animal shelters, animal rescue groups and veterinarians scan for microchip information when a lost pet is turned in to them.
Freedom, Casper and Nikki also wear a collar with tags.  Currently, they wear their rabies vaccination tag with their veterinarian's phone number and a tag from our Greyhound rescue group (Allies for Greyhounds of West Michigan) with their toll free number and "reward" offer.  I also want to get them tags with their name and address on them.
Finally, it is a great idea to have several "Lost" posters made-up and hope that you'll never have to use them.  Our Greyhound rescue group suggests this when you adopt your Greyhound and even provides a blank poster for you to photocopy.  By having the posters ready along with a good picture, you can get them out quickly and easily in those early hours.
I hope I never have a "lost" pet, but hopefully some advance planning will pay-off if it ever happens.  If you have any other good suggestions, I'd love to hear them.
Art Every Day Month – Day 16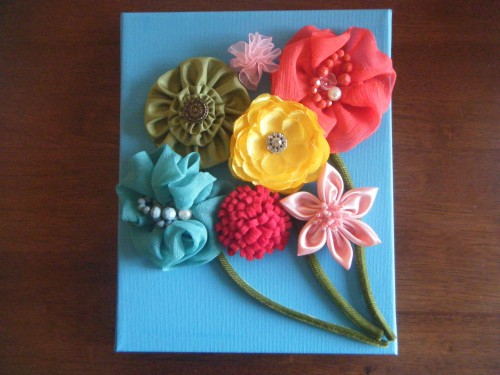 Fabric Flower Canvas