April 15
.
Here's what's been going on in my studio…
I belong to two card clubs where we get together and make a couple cards or some type of papercraft. One of my card clubs got together this past week and here are the cards we made:
To make this card, we inked the embossing folder. Depending on which side you inked…you got the ink color in the design or in the background.
We were able to get the clear flower impression on this card by using embossing powder.
This Week's Inspiration
In 2013, I'm doing Inspiration Mondays and Results Thursdays. Every Monday, I'll post a painting "inspiration" and then on Thursdays, I'll post how I'm interpreting that inspiration.
Last week's inspiration was from my friend, Amy…DOG LOVER. Here are the girl and pup that came out of that inspiration…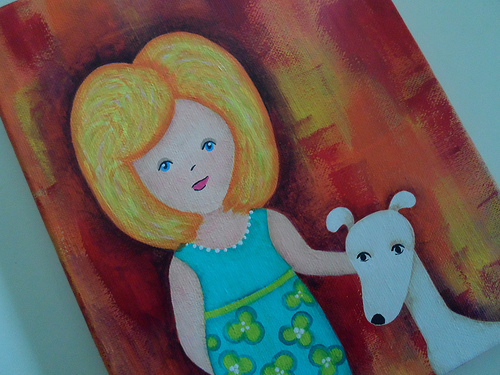 Thank you for your compliments on my first pup. I enjoyed painting him, so you'll see more animals in my future work.
This week's inspiration comes from Kat of Dog Gone Right…WATER.