August 13
.
Here's what I've been working on…
My "Try This" posts for August will feature re-imagined thrift store treasures.  One of my favorite things to do is find something pretty and paint it.  This past week, I painted some old candlesticks.
I'm taking two classes in Session 2 of Artful Gathering.  Currently, I'm working on the Mixed Devotions class with Cristina Zinnia Galliher.  We're making 3 mixed-media bottles.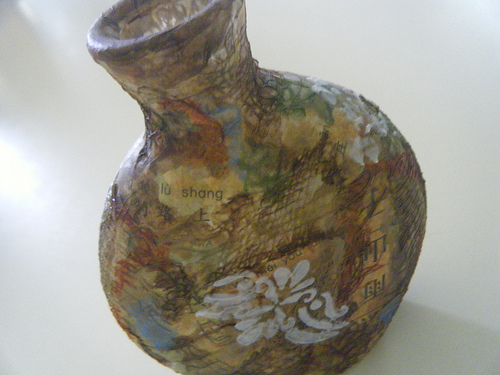 This is the Far East Laughing Buddha Art Bottle (so far).
This is the start of the Interpretive Bottle.
I got together with one of my card clubs.
We made a little Halloween treat bag.
And, we made a Christmas card.  If you papercraft, it's not too early to be thinking of these two holidays.
I also finished July's project for the 2012 Creative Color Challenge.  The color palette was Multi Colors & Letters.  Each month, I'm making a yarn vase for the challenge.  July's challenge had me stumped.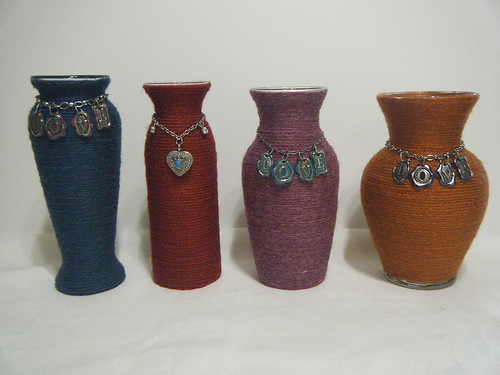 I finally decided to do a set of vase. 
Three of them have "letter" necklaces.
 
One has a heart necklace. 
 
It took me a long time to decide on something but once I did, I like them as a set.
I'll repeat this information about The August Break 2012, every Monday in August. 
During August, I'm participating in The August Break 2012 that is sponsored by Susannah Conway.  Here's what The August Break 2012 is all about:
How it works: you simply share one photo (or more!) each day on your blog – Monday to Friday, or every day. Or whenever you feel moved to share. Using any camera – DSLR, compact, Polaroid, Holga, iPhone (my choice), Instax, film or digital – with or without words – anything goes! – for the whole of August. No pressure – just looking at August through your camera lens as a way to be more present this summer. And to have a little break from the pressures and expectations of regular blogging.
There are NO RULES, people! Just sunshine (hopefully) + a bit of fun. And lots of lovely photos to look at and new blogs to discover.
I use photos I've taken every day for my "Daily Inspiration" segment, but they are not always taken that day or that week.  To challenge myself for The August Break 2012, all my "Daily Inspiration" photos for August will be taken within a day or two of when they appear.  I'll also include a line or two about the photograph.
Daily Inspiration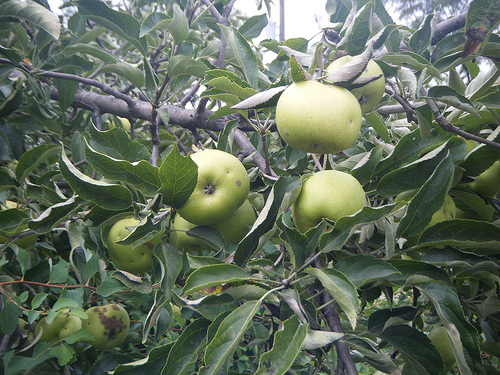 If you bring forth what is within you, what you bring forth will save you. If you do not bring forth what is within you, what you do not bring forth will destroy you.
Saint Thomas
About the photo (taken August 12) …I took this photo yesterday while volunteering at the Center for History.  These little apple trees are in the backyard of the Polish Worker's Home (Dom Robotnika), a house set-up to show what the home of a 1930's industrial worker would look like.  The backyard would have had a vegetable garden, fruit trees and a grape arbor.