February 25
.
Here's what's going on in my studio…
Last week, I mentioned that I put together a proposal to teach a fabric flower class online. Thank you for all your well wishes. I am so happy to tell you that my proposal was accepted and now, I'll start to put together the class! I'm looking forward to the challenge, and it will be a challenge particularly because I'll need to learn to shoot the video. Fortunately, there's a lot of information out there to help me.
This Week's Inspiration
In 2013, I'm doing Inspiration Mondays and Results Thursdays. Every Monday, I'll post a painting "inspiration" and then on Thursdays, I'll post how I'm interpreting that inspiration.
Last week's inspiration was ICE. This is the girl that came out of that inspiration…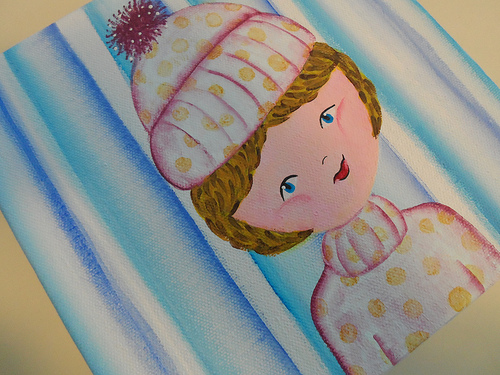 This week's inspiration is the 1940's.
Now a special request…I would love for March's "inspirations" to come from you. Do you have an idea for me? If so, please leave a comment with your inspiration idea. It can be a word, a story, an idea, a time period, a book, a song…whatever you can think of.