February 4
.
Here's what's been happening in my studio…
I continue to labor away at the art journal project I started last year.
I'm using prompts from Art Journal All Year E-Course from Red Velvet Shop. The course offers an art challenge and a journal challenge for 52 weeks. I finished up to Week 46.
I'm going to try like crazy to finish this up by next Monday.
Here is a picture of another project I made at one of my January card clubs. I didn't post the picture earlier because I used it for a bookmark competition we had in my Random Acts of Kindness group.
This Week's Inspiration
In 2013, I'm doing Inspiration Mondays and Results Thursdays. Every Monday, I'll post a painting "inspiration" and then on Thursdays, I'll post how I'm interpreting that inspiration.
Last week's inspiration was FUR, and here is my interpretation.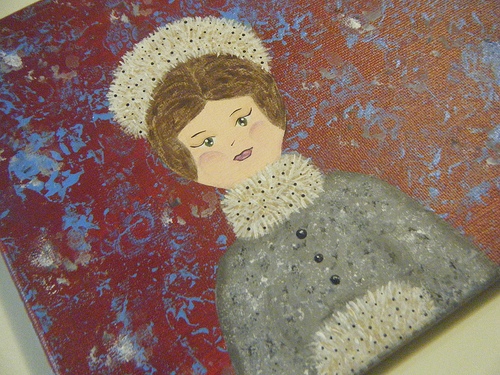 This week's inspiration comes from the Creative Every Day Challenge. Every month, Leah posts an optional monthly theme for inspirational purposes and to give some focus to anyone who needs it. I'm going to use it every month. February's theme is…LIGHT…so that's what I'll use for my inspiration this week.