January 14
.
Here's what I've been working on…
I'm still plugging away at my art journal.
I started this last year and I'm following the prompts from an art journal course called Art Journal All Year E-Course from Red Velvet Shop. The course offers an art challenge and a journal challenge for 52 weeks.
I also had BOTH of my card clubs this week.
These are the two cards we made at my Thursday card club. I'll post the cards from my Sunday card club next Monday.
 
This Week's Inspiration
Something new I'm doing in 2013…Inspiration Mondays and Results Thursdays. Every Monday, I'll post a painting "inspiration" and then on Thursdays, I'll post how I'm interpreting that inspiration.
Last week's inspiration was DARK, and here is my interpretation: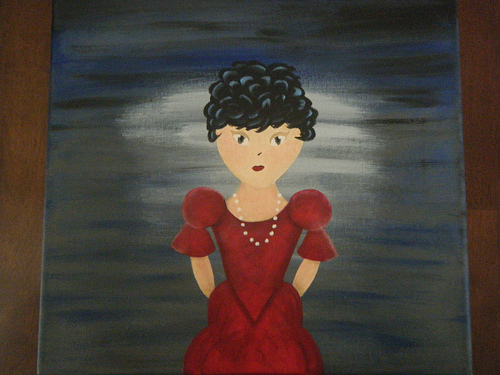 This week's inspiration comes from two little girls I painted during the Art Every Day Month Challenge in November. For some reason, every time I thought about them this week, the words NURSERY COLORS popped into my mind, so that's my inspiration for this week.
I am sharing this post on Inspire Me Monday and Creative Every Day.