January 21
.
Here's what's been happening in my studio…
Last year, I started an art journal project using prompts from Art Journal All Year E-Course from Red Velvet Shop. The course offers an art challenge and a journal challenge for 52 weeks. This week, I finished up Weeks 39 & 40.
As promised, here are the cards I made at the card club I hosted on January 13.
A lovely Valentine card.
An "I Love You" card.
This card was made from a kit…just peel and stick the decorations.
 This Week's Inspiration
Something new I'm doing in 2013…Inspiration Mondays and Results Thursdays. Every Monday, I'll post a painting "inspiration" and then on Thursdays, I'll post how I'm interpreting that inspiration.
Last week's inspiration was NURSERY COLORS, and here is my interpretation.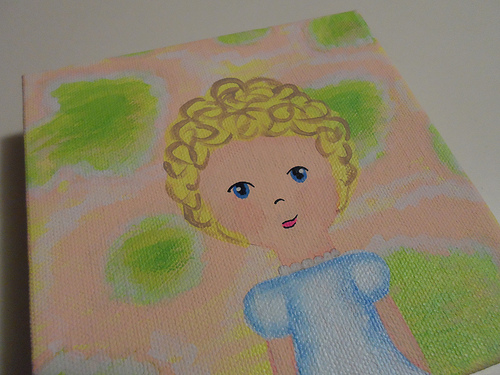 This week's inspiration comes from a list of ideas I wrote down during my Artist Date at Down To Earth. I wrote down "day of the week." To pick the day of the week, I wrote the days on slips of paper and drew one from a jar. The winner was TUESDAY, so that's my inspiration for this week.