January 7
.
Here's what's happening in my studio during the first week of 2013…
Remember this?  Last year, I signed up for an art journal course called Art Journal All Year E-Course from Red Velvet Shop. The course offers an art challenge and a journal challenge for 52 weeks.
For some reason, I set this aside around Week 32 and then BOOM! the year was over. I want to finish this, so I'm going to do several pages every week until it's done. I really do enjoy working on this…when I work on it.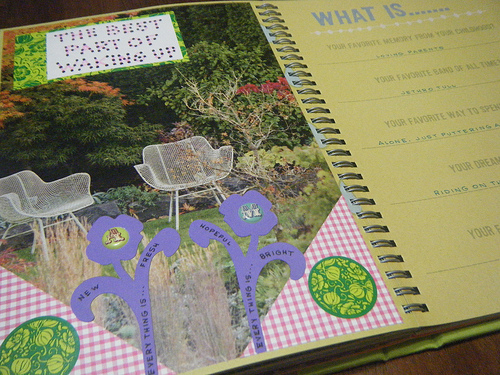 This Week's Inspiration
Something new I'm doing in 2013…Inspiration Mondays and Results Thursdays. Every Monday, I'll post a painting "inspiration" and then on Thursdays, I'll post how I'm interpreting that inspiration. I think this will be a fun exercise for me and keep me painting.
This year, I'm once again participating in the Creative Every Day Challenge. Every month, Leah posts an optional monthly theme for inspirational purposes and to give some focus to anyone who needs it. I'm going to use it. This month's theme is…DARK…so that's what I'll use for my inspiration this week.