June 10
.
Here's what's been happening in my studio…
One of my Stampin' Up! cardmaking clubs met this past Thursday, so I made two new cards.
The texture on the background of this card was done with an embossing folder and a Sizzix machine. The medallions and tag were done with stamps and matching paper punches (punches are one of my favorite things).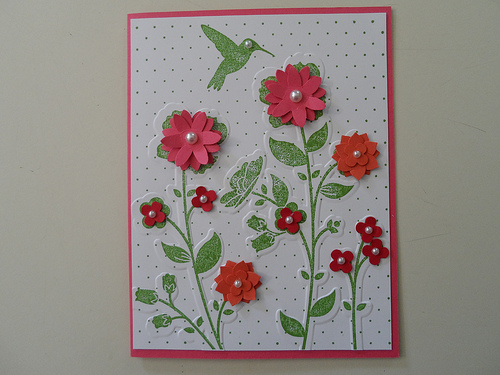 This card's background was stamped, then embossed with a matching embossing folder. The flowers were made using paper punches and layered to add dimension.
This Week's Inspiration
In 2013, I'm doing Inspiration Mondays and Results Thursdays. Every Monday, I'll post a painting "inspiration" and then on Thursdays, I'll post how I'm interpreting that inspiration.
Last week's inspiration was from Fern of Animal Lover, Quilt Lover…CAT OR DOG. I changed it up a bit and made it CAT & DOG. Here's the girl I started, based on that inspiration.
This week's inspiration comes from my friend, Amy…IF FREEDOM WERE A GIRL.
Freedom: This better be good.