June 17
.
Here's what's happening in my studio…
One of my Stampin' Up! cardmaking clubs met this past Friday, so I made two new cards.
The texture on the background of this card was done with an embossing folder and a Sizzix machine. The adorable dress and dressmaker form were also done with the Sizzix machine, but with a die. Very feminine.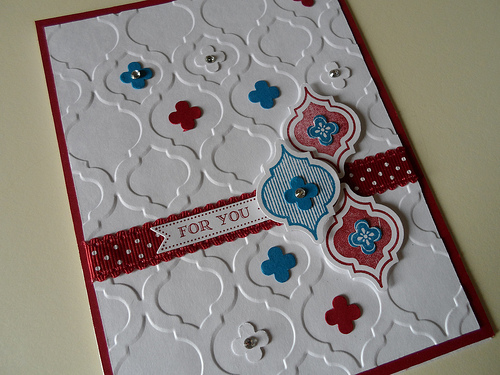 This card uses the same elements and techniques as the card I did last week. A change in color and arrangement and you have a completely different card.
This Week's Inspiration
In 2013, I'm doing Inspiration Mondays and Results Thursdays. Every Monday, I'll post a painting "inspiration" and then on Thursdays, I'll post how I'm interpreting that inspiration.
Last week's inspiration was from my friend, Amy…IF FREEDOM WERE A GIRL Here's the girl I started, based on that inspiration.
This week's inspiration also comes from my friend, Amy…LITTLE RED RIDING HOOD.