March 26
. 
This week, I made a few holiday decorations using yo-yos for Wednesday's "Try This" post.  Those are the only things I finished this week.
That's not the only thing I did though…
I finally found a bedspread that I like and can be laundered in my washer.
I ordered new drapes for my living room for $40, thanks to a sale at Bed Bath & Beyond and their crazy coupon allowance.  Sometimes I feel guilty when I get that good of a deal.  I still take it…I just feel a little guilty.
My husband had our yard mowed…in MARCH!  That's nuts!
I weeded the front of my house.  This is huge, because yardwork is my least favorite thing.  My goal is to keep on top of this.  Hope springs eternal. 
I totally caught up on laundry.  This happens about once a quarter and it feels AWESOME!  Boy, is my husband going to be surprised when he dresses tomorrow.
I also did some planning for a show I'm going to be in…All Things Handmade & Vintage Spring Market.  I found out about it on The Savvy Luna Bugg and there was still a small space available.  This will be the first show I've done in a long time, and I'm looking forward to it.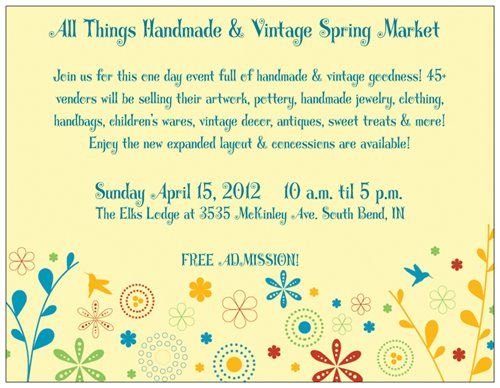 Daily Inspiration
 
Beauty is not caused.  It is.
Emily Dickinson