May 27
.
Here's what's been happening in my studio…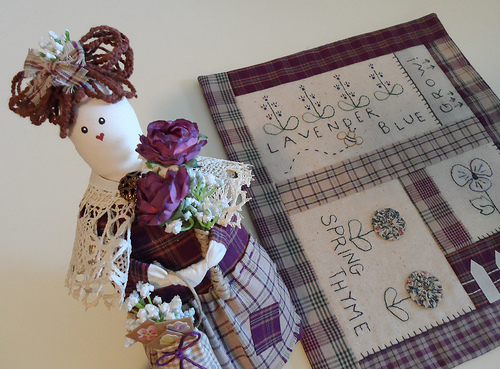 For the last few weeks I've taken a break from craft and painting. Although "breaks" can be refreshing and necessary, getting back to work can be painful. Fortunately, since I have a system (thanks to my blog), I just have to start working the system that's in place. It's still painful.
First order of business, get working on one of my unfinished projects…four mini quilts and four dolls. This week, I finished the Seedy Lady doll. The picture shows the doll with her matching mini quilt.
This Week's Inspiration
In 2013, I'm doing Inspiration Mondays and Results Thursdays. Every Monday, I'll post a painting "inspiration" and then on Thursdays, I'll post how I'm interpreting that inspiration.
I'm currently working my way through a list of ideas that you all suggested. I left off with an inspiration from Kirsten of Peaceful dog…SEASHELLS. I spent two weeks working on this painting before I took a break, and I'd like to finish it up.