September 10
.
Here's what I've been working on in my studio…
 
September's "Try This" posts will feature background canvases.  I'll show step-by-step how I create a background canvas.  Then, in the future, I'll paint girls on them.
Last week, I finished my art doll.  Now, I'm back to my Mixed Devotions bottles.  Both of these projects come from Artful Gathering classes I took this summer.
One of my card clubs got together on Friday night, and we made two Halloween cards.
A frightening kitty card…
 
and a jar of eyeballs card.  All the supplies for these cards are from Stampin' Up!
Each month, I'm making a yarn vase for the 2012 Creative Color Challenge.  The color palette for August was Rainbow Of Color.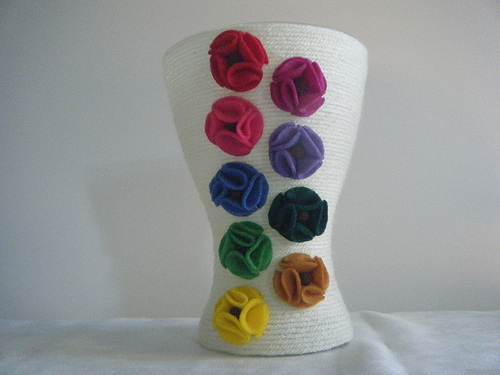 Daily Inspiration
 
We should be taught not to wait for inspiration to start a thing.  Action always generates inspiration.  Inspiration seldom generates action.
Frank Tibolt