September 17
.
Here's what's been going on this past week…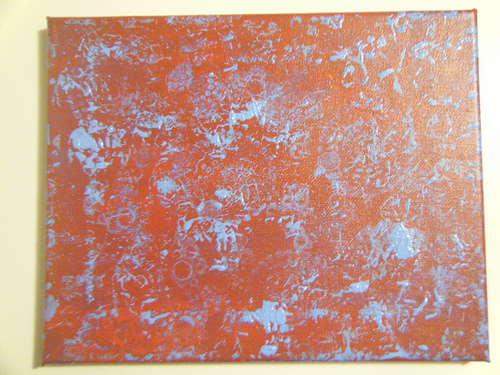 September's "Try This" posts will feature step-by-step background canvases.  Then, in the future, I'll paint girls on them.
Slowly, slowly I'm finishing up the Mixed Devotions class by Cristina Zinnia Galliher.  This week, I painted the Interpretive Bottle.
Yesterday, I went to Art On The Wabash 2012 in West Lafayette, Indiana.  If you are a regular reader of What Remains Now, you were probably SHOCKED that I didn't mention buying anything.  You know I bought something.
 
I bought this horse hair pottery flower sconce by Coal Creek Clay.  I wasn't familiar with horse hair pottery.  Here's what it is (from a card included with my sconce):
This unique application begins with a piece of clay.  Once dry, it is glazed and burnished.  Then, it is fired up to 1800 degrees.  Once it is removed from the kiln, strands of horse hair are burnt into the pottery using a blow torch.  Each handcrafted piece of pottery is a one-of-a-kind piece of art.
 
And, these lovely cards from Becky Chapman Design.
I also bought my daughter a painting for her apartment from Mitchell Austin Schuring.  Mitchell doesn't have a website, but he does have a Twitter and Instagram account (@doenome).  Unfortunately, I forgot to take a picture.  I'll get one for a future post.
Wouldn't it be great if you could just buy everything you wanted?  If my money tree had been producing more money, I would have purchased necklaces by EB Bead and Metal Works and Deborah Waymire, and a cute little pottery piggy bank by Angi Peterson Pottery.  This is just the short-list…sigh.
Daily Inspiration
 Always be a first-rate version of yourself, instead of a second-rate version of somebody else.
Judy Garland