February 7
.
Every Monday, I'm posting a painting "inspiration." Every Thursday, I'm posting how I interpreted that inspiration. I decided to do this to keep myself painting, to strengthen how I go from an idea to a painting, and to give myself permission to play and try new things.
This week's inspiration comes from the Creative Every Day Challenge. Every month, Leah posts an optional monthly theme for inspirational purposes and to give some focus to anyone who needs it. I'm going to use it every month. February's theme is…LIGHT…so that's what I used for my inspiration this week.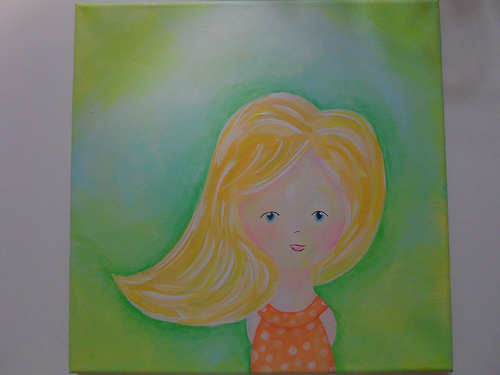 I decided to use the LIGHT inspiration mainly in the coloring.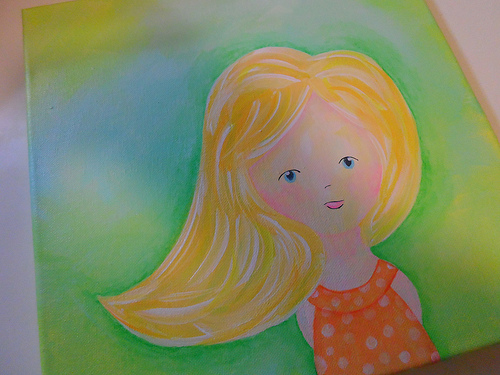 I really enjoy doing these simple, innocent faces.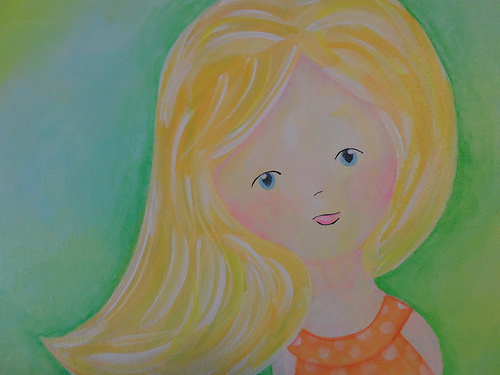 I wanted her to look summer-y and sweet.
How to be HAPPY!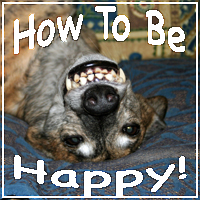 Every Thursday, I'm also participating in How to be HAPPY! a challenge hosted by Jay of The Depp Effect.
This is a great challenge because it really makes you consider the lthings that make life good, and often those things are small but powerful. So easy to participate…Take a picture and write about one thing that makes you happy in some small way. Then, head on over to The Depp Effect and link your post.
Here's something that makes me happy…VACATION.
I'm still basking in the glow of a fabulous vacation, but I love and appreciate "vacations" large and small. The process of planning a vacation and the anticipation leading up to a vacation are two of my favorite parts. I can think of many wonderful vacations where a big part of the fun was all the thinking and talking about the vacation BEFORE I actually went on it. It's exciting to go somewhere new, and I always learn something. I may not want to live in a cabin with only bare necessities…but I can do that on vacation. I may not have the income to support a glamorous lifestyle…but I can sample it on vacation. The idea of future vacations lends a lot of fun to life. Where will I go next? How will I make it happen? Who will I meet? What will I learn? Vacations make the whole world possible. Now, that makes me happy.