June 20
.
Every Monday, I post a painting "inspiration." Every Thursday, I post how I interpreted the inspiration. I decided to do this to keep myself painting, to strengthen how I go from an idea to a painting, and to give myself permission to play and try new things. For the next several weeks, I'm taking my inspiration from the great ideas you sent me.
This week's inspiration comes from my friend, Amy…LITTLE RED RIDING HOOD.
How to be HAPPY!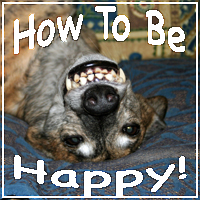 Every Thursday, Jay of The Depp Effect, posts something that makes her happy, and I'm playing along. She encourages us to look around and notice the things that make us happy. I enjoy this challenge because it makes me consider the things that make me happy, but are easily overlooked. It's a wonderful exercise in attention and gratitude. Please grab the badge and join in.
Here's something that makes me happy…FELTED WOOL.
In a previous "How to be HAPPY" post ( February 28), I mentioned how I'm drawn to soapstone. I think the same could be said of felted wool. I love the feel and texture and all the whimsical things that generally come from it. Â I've also had several felted wool jackets…durable, lovely and very warm. Felted wool makes me happy.
In the picture above, the felted wool snake was made by Lina Michalauskaite; her Etsy shop is called Vilnone. The felted wool octopus and goldfish change purse are from dZi's Wild Woolies collection (available where I work…The Eatery | Reads & Things). The felted wool owl was made by me…remember?