June 6
.
Every Monday, I post a painting "inspiration." Every Thursday, I post how I interpreted the inspiration. I decided to do this to keep myself painting, to strengthen how I go from an idea to a painting, and to give myself permission to play and try new things. For the next several weeks, I'm taking my inspiration from the great ideas you sent me.
This week's inspiration comes from Fern of Animal Lover, Quilt Lover…CAT OR DOG.
I changed it a bit and made it CAT & DOG.
How to be HAPPY!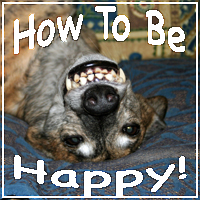 Every Thursday, Jay of The Depp Effect, posts something that makes her happy, and I'm playing along. She encourages us to look around and notice the things that make us happy. I enjoy this challenge because it makes me consider the things that make me happy, but are easily overlooked. It's a wonderful exercise in attention and gratitude. Please grab the badge and join in.
Here's something that makes me happy…A BRAND NEW CALENDAR.
I'm one of those odd ducks that start a new calendar in July. It started several years ago. I found a calendar I liked that ran July through June; I bought it and now I'm a July-June calendar person. I love a new calendar. So fresh and full of potential. This one is pretty too. Bonus.