May 2
.
Every Monday, I post a painting "inspiration." Every Thursday, I post how I interpreted the inspiration. I decided to do this to keep myself painting, to strengthen how I go from an idea to a painting, and to give myself permission to play and try new things. For the next several weeks, I'm taking my inspiration from the great ideas you sent me.
This week's inspiration comes from Kirsten of Peaceful dog…SEASHELLS. I was going to take two weeks (this is the second week) to work on this painting, but it looks like I'm going to need to add an additional week.
This is the stage of the painting when I feel like nothing is working. I keep adding details until suddenly, her little personality and "look" start to come through.
How to be HAPPY!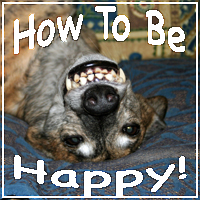 Every Thursday, Jay of The Depp Effect, posts something that makes her happy, and I'm playing along. She encourages us to look around and notice the things that make us happy. I enjoy this challenge because it makes me consider the things that make me happy, but are easily overlooked. It's a wonderful exercise in attention and gratitude. Please grab the badge and join in.
Here's something that makes me happy…PROJECT LIFE.
I posted about Project Life yesterday, and it's one of the reasons I'm behind on painting this week. I really enjoy using this system to get my photos together and tell a story. I love it when I find a system that works for me. All of a sudden, an activity becomes easier and more enjoyable when you find a method that "clicks" with you. Project Life is doing that for me right now, and I want to go with the momentum.