January 15
.
Every Tuesday in 2013, I'll post something about the houndies. To start, I'd like to introduce Freedom, Casper and Nikki. This week, it's Casper's turn.
It is me, Casper.
Casper is my darling boy. Casper is a retired racing greyhound. His racing name was Try N Ryan, but, like Freedom, he didn't race for long…around 10 races and no wins. Casper is 4 years old.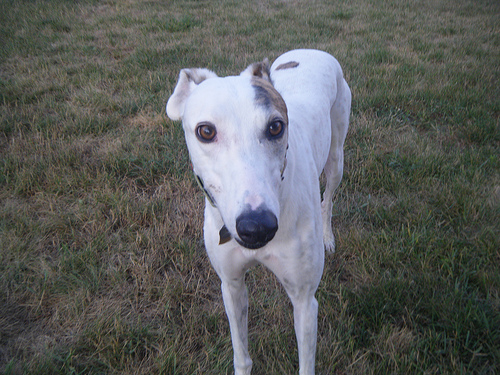 Casper is the baby of our pack. He is sweet, goofy and everyone's favorite. Casper just has that special something about him that makes everyone love him.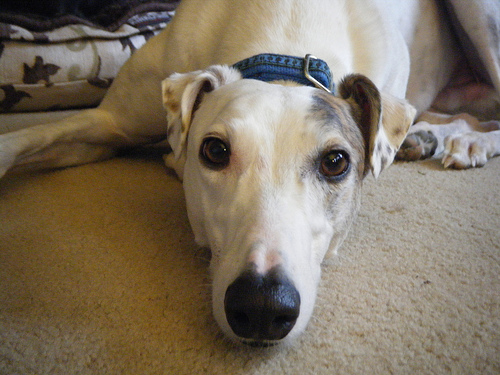 Casper is the king of passive-aggressive.  He often wants whatever bed Freedom is on or whatever toy she has (except the hedgehogs…the hedgehogs are sacred and Freedom's alone).  Here's his method…he slowly, slowly, slowly  approaches Freedom and circles around behind her.  Freedom jumps up and starts barking and snarling.  As soon as she jumps up, he flops down on her bed or gently reaches over and takes the toy.  Freedom gives an extra snarl and then moves on.  It works for him every single time.
Casper is the runner of the group. He loves to race around the backyard. He is also the only one of our hounds who does "after bath zoomies." We laugh our heads off every time Casper gets a bath because he tears out of the bathroom and spins and runs and spins and runs all over the house.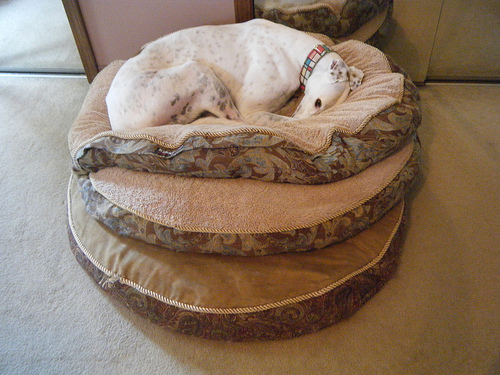 Casper is also a connoisseur of beds. He particularly likes them piled high.
Casper is as sweet and gentle as he looks. He's my little baby boy…no matter how old he gets. Love you, Caspie!
Special Announcement!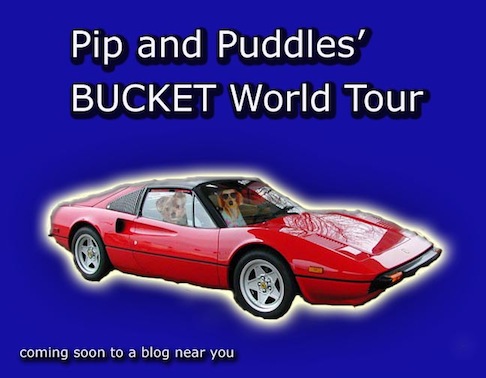 We are participating in Pip and Puddles' BUCKET World Tour. Pip is our friend and his blog is Pip Gets Back In The Game. Pip is probably around 15 years old and has been having some problems with his heart, but you can't keep a good Pip down, so he's heading out to check off all the things on his Bucket List. We're going to help. Stay tuned for more details.