January 22
.
Every Tuesday in 2013, I'll post something about the houndies. To start, I'd like to introduce Freedom, Casper and Nikki. This week, it's Nikki's turn.
Nikki is a retired racing greyhound, and she's 5 years old. Her racing name was Silver Nikita. Nikki is our champion greyhound. She ran 75 races and placed 1st in 8 races. The funny thing…Nikki hardly ever runs in the backyard. Freedom and Casper will be racing around the yard, and Nikki just walks around and lays in the grass.
A little note…I said Freedom and Casper had less than 10 races each. That is true, but a little misleading. Freedom had TWO races and Casper had ZERO. I don't even know if I can classify Casper as a retired racing greyhound (ha).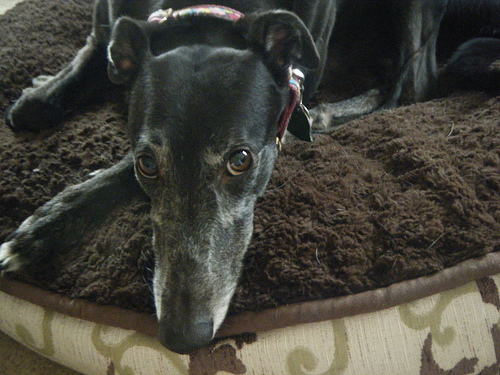 Back to Nikki…We adopted Freedom and Casper in April 2010 shortly after we lost our beloved Paloma. We never planned on being a 3 dog family. 2 seemed just the right amount…then came Nikki. Nikki was fostered by our friends. They got her in March 2011, and I first got the feeling that Nikki maybe should be ours in May 2011 during our Greyhound group's annual Spring Fling get-together. A lady who was interested in adopting Nikki came to see her and I kept thinking, "I don't want her to have Nikki." The lady didn't end up taking Nikki and as the next few months passed, whenever I heard that Nikki had a home visit, I'd find myself hoping that she wouldn't be picked, and she never was.
 
My girlfriend and I speculate that Nikki was never chosen because first, she was meant to come to our home and second, she never "showed" well. Most folks look for a big personality and a special spark. Nikki doesn't have those. Â Nikki is a VERY reserved dog. Nikki had a traumatic past. Her trainer, when his racing license wasn't renewed, decided to starve his greyhounds. He was discovered when he turned in 8 malnourished greyhounds to a greyhound adoption group. At the track, authorities discovered 32 dead greyhounds and 5 still clinging to life.
Nikki has made some big strides, but she is still very cautious. We've celebrated victories with Nikki, like the first time she roached out and the first time she play bowed with my husband and did some spins in the living room. Nikki was the perfect pup to add to our pack. Where Freedom and Casper are all about playing and arguing with each other, Nikki takes it all in stride.
Nikki is the complete opposite of Freedom when it comes to her coat. Nikki is the furriest greyhound I've ever met. I like to say that if it weren't for her pointy snout, you'd think she was a Black Lab.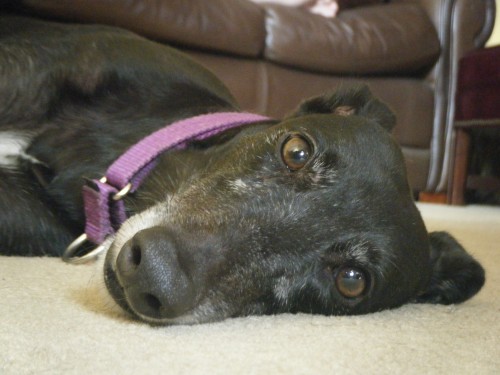 Nikki is the best and sweetest dog. I love this gentle spirit so much, it hurts at times. She is my little baby and my fuzzy bear.