December 3
.
I noticed that Baggy and Nin, over at The Hailey and Zaphod Chronicles, had a cool new sleeping mat from Mollie & Alfie's Shop…the Kittie Nip Nap Matz. They wrote a post about it and gave it a 4 paws out of 4 rating. With such high praise, I was interested in getting one for Twinkie.
It is made out of super cute fabric with colorful cartoon kittens AND it has catnip in it. I placed it on the love seat and Twinkie immediately took up occupancy. She rolled on it, slobbered on it, loved on it and finally laid down.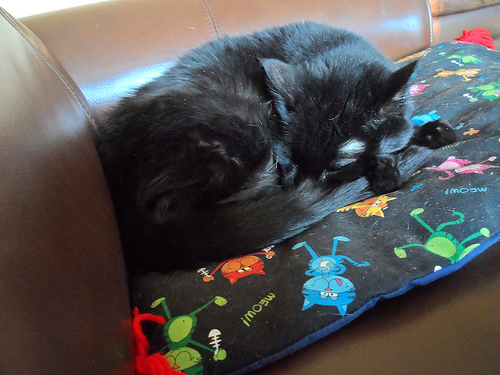 Days later, the Kittie Nip Nap Matz is still a favorite place to take a nap. Twinkie seconds Baggy and Nin's rating and gives it a 4 paws out of 4 rating.