December 11
.
Yesterday, I was delighted to find that What Remains Now was awarded the Liebster award by Declan (aka Deccy) of Declan's Dog Blog.  You may remember Deccy and his Mum's 4 Faves in November.  It appears that nepotism may have been involved in Declan's choice of awardees (Casper and Nikki are related to Declan), but who am I to buck a time honored benefit system like good ole nepotism.  All kidding aside, I was pleased and honored to receive the award.  Here are the rules:
Liebster means "dearest" in German, and the award is intended to help up-and-coming blogs get the attention they deserve.  As with any award, there is a bit of ceremony involved. In order to accept the award, you must do the following:
 
1. Copy and paste the award on your blog.
 
2. Link back to the blogger who gave you the award.
 
3. Pick your five favorite blogs with less than 200 followers and leave a comment on their blog to let them know they have received the award.
 
4. Hope that the five blogs chosen will keep spreading the love and pass it on to five more blogs.
 
Since I had to narrow my picks to only five, I selected blogs I haven't featured before:
 
 
Shades of Greyhound is the blog of Ambrose, Dog II and the newest member of the pack, Jiggler.  Their exploits are told through intermittent photocomics.  If you love cutting-edge Greyhound humor, Shades of Greyhound is the place to go.
 
 
 
 
Peaceful Dogs is Kirsten's blog.  She relates her adventures in rescuing, fostering and training dogs.  I enjoy Kirsten's blog because you can feel her heart for making the world a better place for the dogs she fosters and trains.  Kirsten doesn't sugarcoat the work she does.  It isn't easy, but important things rarely are.  
 
 
Dog Gone Right is the home of Gwyn the Greyhound and her two kittie siblings, Oz and Willow.  Kat is an animal lover, and I love following her kids' adventures. 
 
 
Penelope (aka Nellie) and Kozmo run things over at The Cat From Hell blog.  They live with their Mommy and Daddy and the Hairy Slobbery Sisters, Bob and Cinnamon.  If you like naughty kitties, you'll love Nellie and Kozmo.
 
Thank you, Declan, for this lovely award, and "congratulations" to all my awardees.
 
A few upcoming challenges for 2012:
 
The World We Found Readalong is sponsored by one of my favorite book blogs, S. Krishna's Books.  I've never read anything by Thrity Umrigar, so I thought I'd give it a try.  The World We Found releases on January 3, 2012 and the discussion begins on January 10. 
I love the idea of focusing on a particular theme during a year of reading, so Swapna's year-long South Asian Challenge 2012 appealed to me.  I've read very little about South Asia or by South Asian authors, so this challenge seemed perfect. 
There are two ways for a book to qualify for the South Asian Challenge:
1.  A book must be by a South Asian author.  For these purposes, South Asia includes the following countries: India, Pakistan, Sri Lanka, Bangladesh, Bhutan, Nepal, and the Maldives.  There are no limitations on what the book can be about. 
2.  A book must be about South Asia or South Asians.  In this case, it can be set in a South Asian country or be about South Asians living abroad.  It can also be a biography or memoir of a South Asian, or of a non-South Asian traveling or working in South Asia.  In this case, the author does not need to be South Asian, as long as the subject matter focuses on the region, peoples, or cultures in some way.
I'm committing to 4 books:
The World We Found by Thrity Umrigar & The Lost Flamingoes of Bombay by Siddharth Dhanvant Shanghui
The Emperor of All Maladies by Siddhartha Mukherjee & The Blue Notebook by James Levine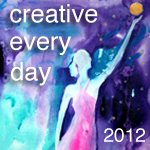 I had such a positive experience participating in Art Every Day Month in November, that I want to join in with the Creative Every Day Challenge 2012, sponsored by Leah Piken Kolidas of Creative Every Day.  I won't post about this on a daily basis as I did during the challenge in November, but it will help keep me motivated.
Please join in if any of these challenges interest you.  You don't have to have a blog to participate.