May 13
.
Last Saturday, my girlfriend and I hit the road and took a bus trip.  Our destination…Long Grove Village, Illinois, for the Chocolate Festival.  This may become an annual tradition for us.  Last year, we went to see Diana: A Celebration.
According to flyer we received…The Village of Long Grove was originally settled as a German farming community.  Northwest of Chicago, it is recognized as one of the nation's genuine historic villages and is Illinois' first historic district.
Nestled in historic homes and buildings that date back to the community's roots in the 1800's, Long Grove's many shops specialize in unique gifts, boutiques, exceptional art and home décor, and distinctive menus.
We had a blast.  It was a little chilly and overcast, but we comforted ourselves by checking out the great shops and vendors.
Walking around the village was a delight.  There's a covered bridge, cobblestone paths, and places to sit down.
Even with the hustle and bustle of the festival, Long Grove had a peaceful vibe.
There were so many interesting things to look at.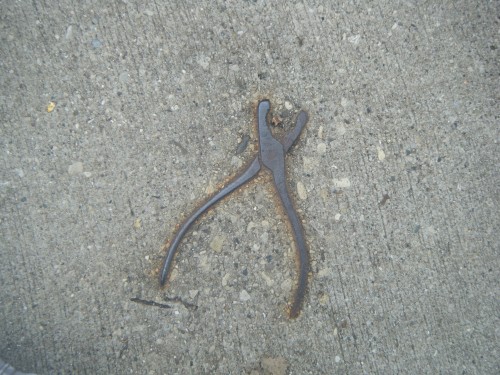 How about tools in the sidewalk?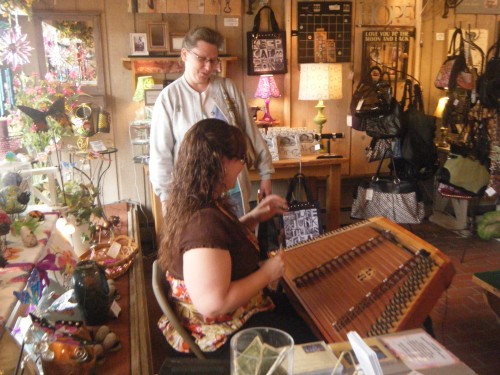 We also had the opportunity to talk with Katie Moritz, award-winning hammered dulcimer player,
and listen to her beautiful music.  If you'd like to hear a sample of Katie's sound, you can check out her website .  Katie and Lisa Ferguson have a new CD coming out called Kaleidoscope.
It was a lovely day with my best friend, whom I dearly love.  If you want to see what we looked like when we first met in kindergarten, check out this post.
Daily Inspiration
 
I remember my mother's prayers and they have always followed me. They have clung to me all my life.
Abraham Lincoln