August 7
.
 
Zonda & Amy
Every Tuesday in 2011, I did a blog post entitled "4 Faves" where I told you about 4 of my favorite things.  When I changed my posting line-up for 2012 and dropped 4 Faves, my friend Amy was devastated.  So, in honor of my friend, I'm declaring August "Amy's Faves" month.  Here are some of my buddy's favorite things:
 
The Lily Pad Lid
This clever (and lovely) kitchenware item is from Charles Viancin.  Made of FDA approved silicone, it is safe for the oven, microwave, freezer and dishwasher.  It has venting holes in the "flower" handle.  Amy likes it because it's a quick and easy universal lid that creates an airtight seal.  She also likes it for covering food outside…no bugs.  It comes in 3 sizes, and if lily pads aren't your thing, they also offer a sunflower.  This is cool.
 
Shakeology
Amy credits Shakeology (and a little hardwork and willpower) with helping to shed those last stubborn 10 pounds.  Shakeology shakes include pro-biotics , five servings of vegetables and spirulina, a super antioxidant.  It has a low glycemic index so you don't crash.  Chocolate vegan is Amy's favorite.  She mixes it with ice and almond milk.  Amy has had such success with Shakeology, that she is an Independent Team Beachbody Coach.  Check out her website for more information or to contact her if you have any questions.  If you want proof that it works, checkout Amy's pants in the picture above.  Amy, you need new pants.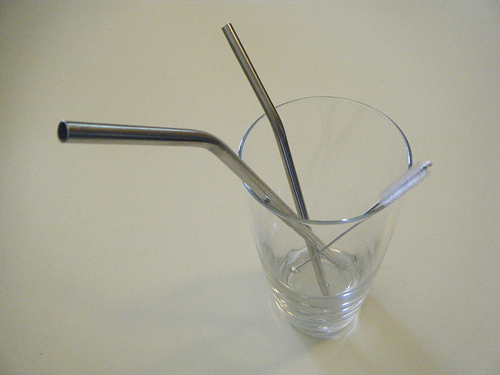 Stainless Steel Straws
The first thing Amy said when she showed these to me was, "I wish you still did 4 Faves."  Amy loves them because they are environmentally-friendly and you can stir your shake (or margarita; Amy's example, not mine) with them.  Amy ordered them from Open Sky.  $20 for 4 long, 4 short and a cleaning brush.
 
Lemon Balm Salve
Amy swears this has kept her from getting cold sores for six months.  She heard about it on Dr. Oz.  Other bonuses…it smells delicious, heals chapped lips, and is good for cuts, bug bites and burns.  This balm is from WiseWay Herbals.
Daily Inspiration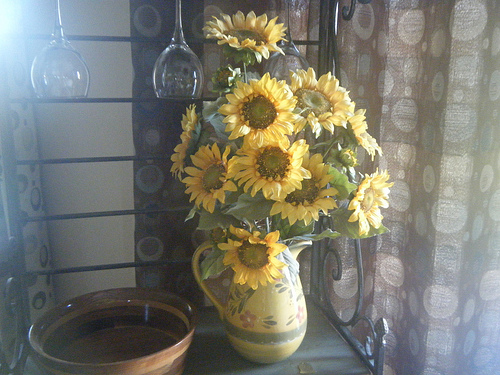 Since there is nothing so well worth having as friends, never lose a chance to make them.
Francesco Guicciardini
About the photo (taken August 6) …I've had this sunflower floral arrangement for over 10 years.  Every summer, I bring it out, and I never grow tired of it.  It's just so happy.