August 28
.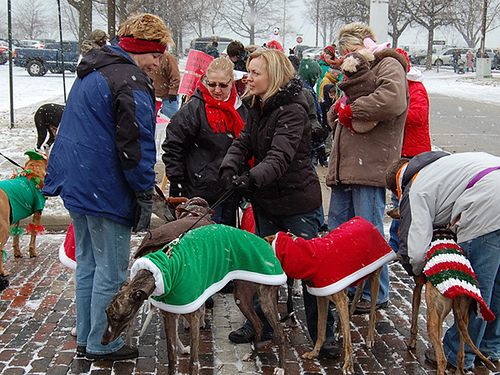 Amy, Miura (green coat) & Zonda (red coat) at the Reindog Parade 
For my "Love This" posts in August, my friend, Amy, has been sharing some of her favorite things.  Thank you, Amy, for sharing a few of your best finds.  I certainly want to try several of them.  Without further ado, here is the final installment of "Amy's Faves"…four of her favorite Greyhound/pet faves.
Nite Ize S-Biners
Amy loves these Nite Ize S-Biners to attach tags to dog collars. They are inexpensive (six for less than $5 on Amazon), sturdy, and you can color coordinate to seasonally changing collars. 
These beautiful tags come in different sizes and fun colors! red, pink, purple, blue, black, yellow, white and sky blue.  Amy's hounds wear the small size (the flower measures 1-1/8″ H x 1-1/8″ W).  She loves them because they're pretty, and each dog has their own special symbol.  Miura has the red heart, Zonda has the blue flower, and Eva has the green clover.  An extra bonus, you can add Owner Alert for a $9.95 one-time-fee per household.  Along with your phone number, the tag also has a 1-800 number where several additional phone numbers are kept on file.  If your pet is reported to the 1-800 number and you don't answer when they call, the service calls all your numbers, in rotation, until they reach someone, 24-hours a day.  You can call and change your listed numbers at any time, which is great if you're traveling or change vets.  Before Amy ordered the tags, she called the 1-800 number at 2 am to make sure someone answered.  They did.  As I mentioned, Amy checks things out.
Eva modeling both the Nite Ize clip and her LuckyPet tag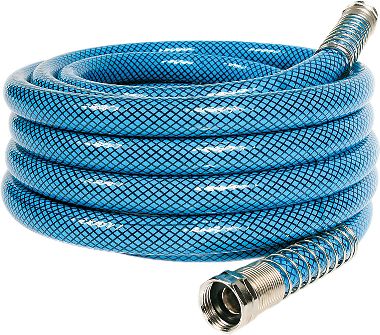 Camco Drinking Water Hose
I did not know this…If you fill a kiddie pool or ever let your dogs drink out of a hose, you could expose them to things they'd be better off not to drink. The water that comes out of a regular garden hose often has lead and other chemicals that seep into the water from the materials the hose is made of, especially if the hose sets in the sun.  You can help keep your dogs (and kids) safe by using a BPA and lead-free garden hose.  The Camco Drinking Water Hose (50′) is a great pick and available for under $35 on Amazon.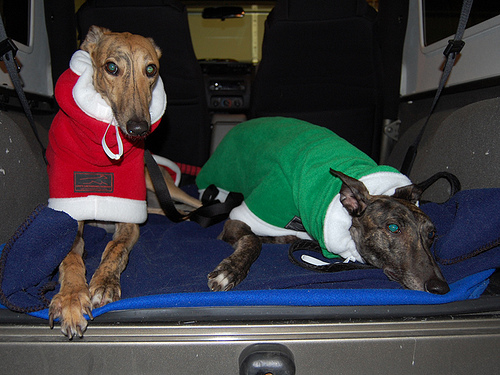 Zonda & Miura…Santa's Helpers
Gini's  Greyhound Fashions Santa's Helper Coats
For the last two years, our houndies have walked in the Reindog Holiday Parade with Amy's houndies who always wear their Santa's Helper coats.  For the last two years, I've been jealous because Miura and Zonda look ADORABLE.  Amy loves these coats.  In her words, "Great rear coverage and a snuggly turtleneck make them winners." AND the girls always get stopped for compliments when they're wearing them on walks.  I have witnessed this first-hand.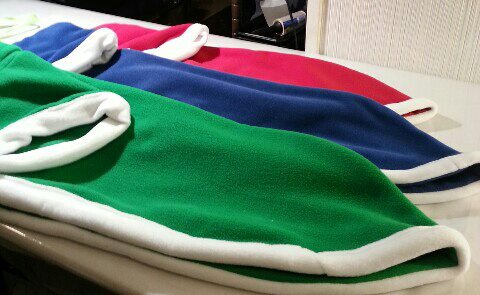 Last year, Amy and her husband met their sweet Eva at the Reindog Parade when she was brought by Allies for Greyhounds of West Michigan (our Greyhound group) as a possible foster.  Well, they took Eva as a foster and promptly failed fostering…Eva had her forever home!  Eva needed a Santa coat and Gini of Gini's Greyhound Fashions, came through with a beautiful blue one. 
Amy was a little concerned over featuring a winter item when it's still warm, but as she pointed out "people who make dog coats to your specific measurements get really busy as soon as it gets cold, so if you need something, order now!"  I agree, and I'm working with Gini to get our Santa's Helper coats ordered.  The Lohmeyer hounds will be turning up in style for this year's Reindog Parade!
Daily Inspiration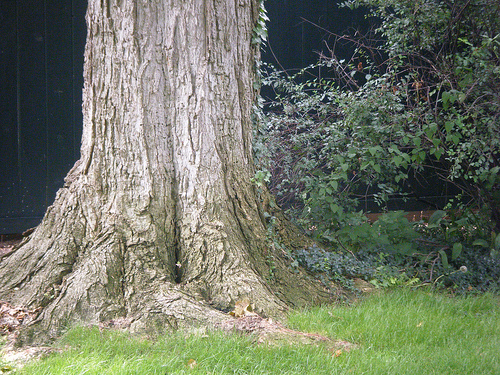 A friend is the one who comes in when the whole world has gone out.
Grace Pulpit
About the photo (taken on August 26)…I took this photo on the grounds of the Oliver Mansion where I volunteer as a docent.  There's such a calming beauty to huge old trees.  I like to ponder all the years they have seen.