February 28
.
I love painted finger and toe nails, but I don't like to have salon manicures and pedicures…just a little weirdness with me.  So long ago, I perfected my at home manicure and pedicures skills.  Here are my secrets:
 
1.  Do the prep work.  Since my nails are strong, I like to use a clipper.  I finish by filing my nails.  I love a glass or crystal nail file because it gives a nice, smooth finish.  I'm glad a current style is short nails filed straight across…very practical.  SECRET – Make sure your nails are completely dry.  Don't paint your nails right after getting out of the bath or shower, and if you use an oily polish remover, make sure you remove any residue.  Also, make sure you don't have any lotion residue on your nails.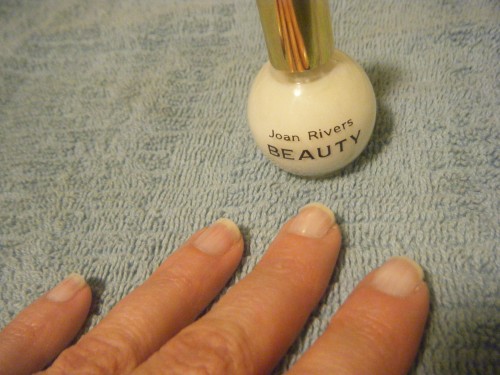 2.  I am "old school" when it comes to using a base coat.  I don't like combination base coat/top coat because they tend to be more like a top coat than a base coat.  SECRET – I like a base coat that is not shiny and gives the polish something to grab on to.
3.  Choose a good quality polish.  I used to use OPI (which I still love), but recently started to use Essie.  I find that Essie is a little thinner than OPI.  SECRET – I like to stick to one brand because then you become familiar with the consistency of that particular brand and the brush.
4.  Thin coats are best because if you apply thick coats you may get bubbles in your polish.  I allow at least 15 minutes between coats.  I apply the base coat, then a coat of polish.  Apply a second coat of polish, if needed.  SECRET – One of the techniques that will make your at home manicure look like a salon manicure is to make sure you cover the entire nail.  Pay particular attention to the sides of the nails and make sure you take the polish all the way to your cuticles.  I paint carefully, but don't worry if I get a little on my skin.  Once the polish is dry, it comes off  the skin quite easily.
5.  The final step is the top coat.  Generally, I find this manicure lasts 5-7 days, with only a little wear at the tips.  SECRET – Use a high quality top coat and make sure you paint the entire nail.  If your manicure starts to look dull, apply another thin top coat layer.  Your manicure will look nice and fresh.
Nail polish is a fun way to add some glam to your look, and by choosing "current" colors, you'll look modern and up-to-date.  A bonus with the at home manicure/pedicure…For the cost of one salon manicure/pedicure, you can purchase a high quality base and top coat and several colors of polish.
Note:Â  The Essie colors in the first picture are Mamba 664 and Go Overboard 740.
Daily Inspiration
 
You were born an original.  Don't die a copy.
John Mason