May 1
.
Freedom, Casper and Nikki here, reporting on our latest Greyhound adventure.  Friday, we left for…GREYHOUNDS IN GETTYSBURG!
After looking at the photos our mom gave us to work with, we'd like to start with a disclaimer and a request.
Disclaimer:  We had a lot more fun and the pups and people we met were much lovelier than our mom's pictures reflect.
Request:  Would someone please tell our mom that just because you have a "point and shoot" camera, it doesn't mean that you point the camera willy nilly and shoot crazy pictures…sheesh!
That said, we loaded into the Greyhound-mobile and took off on Friday morning…Gettysburg or bust!
First, we checked into our hotel, the 1863 Inn of Gettysburg.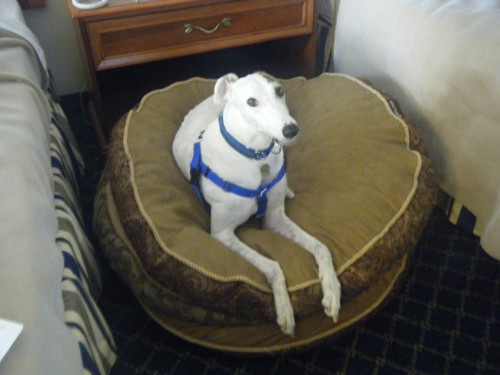 Freedom:Â  Casper, get off the beds so mom and dad can spread them around the room.
Casper:Â  They only brought three beds for all of us!
Nikki:Â  Casper is a bed hog.
Then, we went to the Kickoff Meet & Greet and Dinner sponsored by Battlefield Harley-Davidson.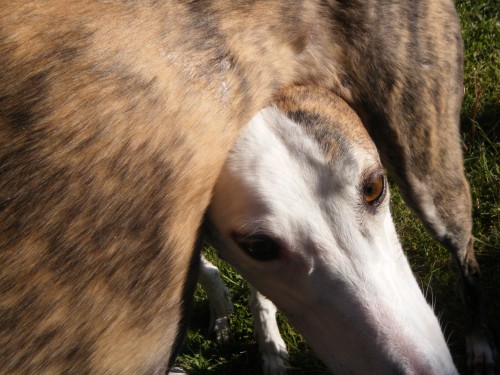 Freedom:  Yes, that is Casper checking out the scene from UNDER me.  Little brothers can be so trying.
Casper:  That was just the best way to see what was going on!  The sun was at a weird angle!
Nikki:Â  Casper was scared.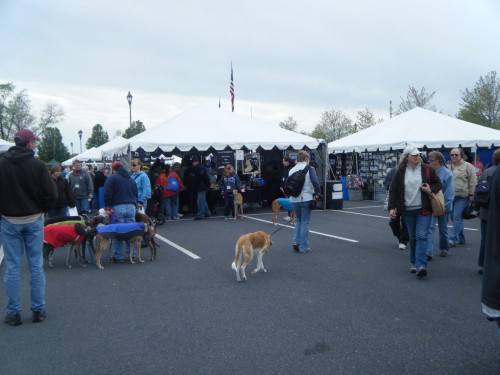 Saturday, we headed off to The Outlet Shoppes at Gettysburg to meet new friends and shop!  Mom is going to show you all the things we got when she posts on Saturday.  A little preview…since it was a bit chilly, we all got sweaters right away.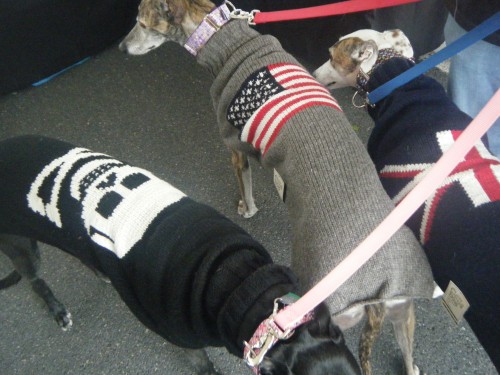 Freedom:Â  I'll assume that I don't have to explain why I got the American flag.
Casper:Â  I got the Union Jack…DECCY! (If you don't know my cousin and mate Declan…check out his blog here and my plans to visit him here).
Nikki:Â  I'm a pirate.
Amidst all the shopping, here are some of the new friends we met:
Freedom:  This is Lexie.  She had a sweet ride.
Casper:Â  Did mom use some sort of blue filter on this picture?
Nikki:Â  I want a sweet ride like Lexie's.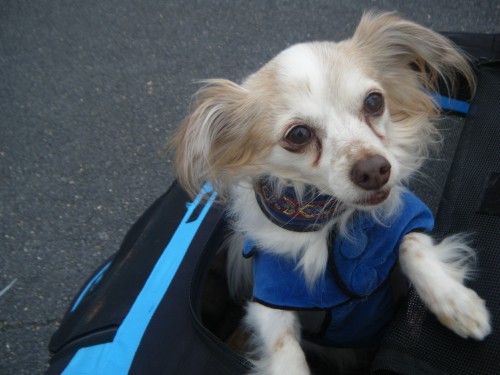 Freedom:  This is Caveman.  Caveman had a sweet ride like Lexie.
Casper:  This is Caveman's sister, Tinkerbell.  She was very glamorous.
Nikki:Â  I want a sweet ride like Caveman and Tinkerbell.
Freedom:Â  Clooney was stylin' but it was cold, so he needed the help of an extra blankie.
Casper:  Take that George!  I think you have some competition.
Nikki:Â  I want to be carried in a blankie like Clooney.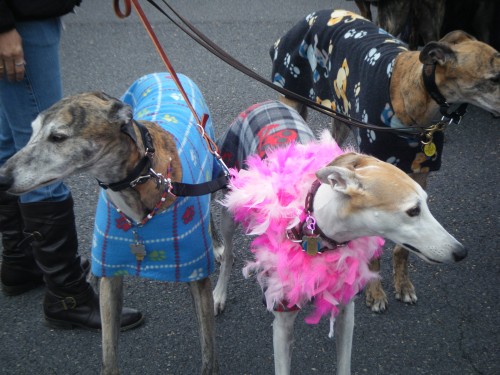 Freedom:Â  Craigie, Emma and Junior looked marvelous!
Casper:Â  I like this pack idea better…two boys and one girl!
Nikki:  Casper is not telling the truth.  He likes being the only boy.  That way, he can imagine himself "the ladies' man."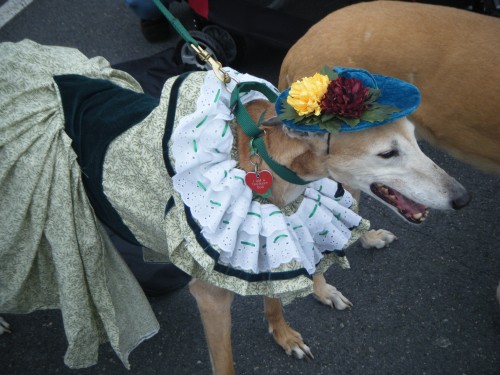 Freedom:  There was a parade and contests too, but because our mom didn't pay attention to the time, we missed all of it.  Afterward, we did get to see some of the participants.  This is Gypsy, aka Scarlett O'Hara.  In real life, Gypsy works with heart patients.
Casper:Â  Gypsy, you're beautiful.
Nikki:Â  See, I told you Casper likes being the only boy.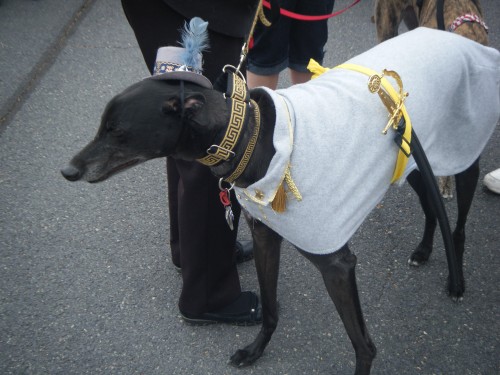 Freedom:  This is Roger.  He won the "Best Civil War Theme."
Casper:  Roger!  Being in the Costume Contest was either very tiring or Roger passed out from the excitement of winning!
Nikki:Â  Congratulations, Roger.
We also want to mention that every pup pictured was a rescue dog.  We think that's awesome.  Tune in on Saturday to see what our mom bought and again on Sunday for a special treat.
Daily Inspiration
 
Dogs' lives are too short.  Their only fault, really.
Agnes Sligh Turnbull