May 8
.
Recently, I needed more business cards.  I wanted to get some of the mini cards too.  I decided to try Moo.  I placed my order, and when I received my cards I was extremely impressed with the quality of the cards…except for one thing; I hadn't cropped the image for my business cards correctly.  I was sick over this…what a waste of money.  I knew it was my responsibility to get my image right, but I was also disappointed that it hadn't been caught in production.  Not all of us are savvy with this type of thing.  I decided to contact Moo, explain my situation and "take" on the matter, and see if they would redo my order at no additional charge to me.  Guess what?  They agreed without question. 
See my mistake…the little white lines on the corner of the bottom card.
They corrected my image, reprinted my cards and got the new cards to me quickly.  Not only am I wowed by my beautiful cards and stickers; I'm immensely impressed with their customer care.
I ordered traditional business cards with my name and email printed on the back.  They're printed on a thick cardstock.  I think they feel expensive.
This is the same card, front and back.
I also ordered these little mini cards.  They are adorable and practical.  A fun, memorable way to pass on my website information.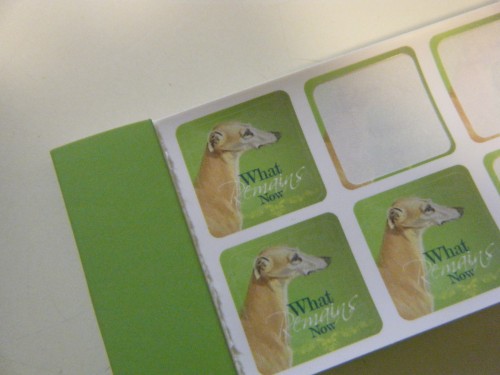 I ordered stickers, mainly to see what they were all about.  I used some of them on the bottoms of the yarn vases I have for sale.
Moo also offers Printfinity, a technology that allows you to have a different image on every card in your pack.  How cool is that for photographers!
Quality product, superior customer care…I'm a happy camper.
Note:  All my Moo links are affiliate links.  I'm not "savvy" with that either, but what I believe it means is if you click on one of my Moo links and place an order, I get a commission.
Daily Inspiration
 
Wisdom is knowing what to do next; virtue is doing it.
David Star Jordan, The Philosophy of Despair