June 19
.
Guess who celebrates a birthday tomorrow?…NIKKI!  Nikki will be five years old.
What can I say about my sweet Nikki…
1.  I call Nikki my perfect dog.  She just doesn't do anything wrong…ever.
2.  Nikki was a great "third" to add to the Freedom/Casper duo.  Even though Nikki is unassuming, she is very friendly when we have guests.  She comes over to greet visitors, but she isn't pushy (like Freedom).
3.  Nikki was a winner.  She ran 75 races in two years.  She placed 1st in 8 races and 2nd in 9 races.  The funny thing…Nikki hardly every races around the yard.  Freedom and Casper will be running around like crazy, and Nikki just watches.  Been there, done that.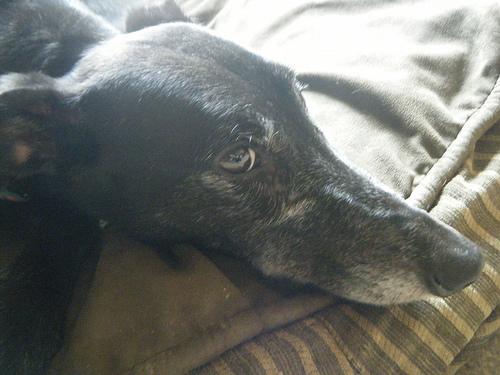 4.  Nikki was overlooked many times before we adopted her.  She's so unassuming that she never stood out.  Thank goodness!
5.  Nikki is to hairy, what Freedom is to bald.  Nikki is the furriest greyhound I've ever met.  I call her my little bear.
6.  Nikki has tiny little feet.
7.  Nikki is the timekeeper.  She is the first to get-up, first to announce it's time for dinner and first to start pushing for bedtime.
8.  Nikki is an "old soul" dog.  I suspect that she has the most to teach me.
Happy Birthday, my darling girl.  I love you so much, you make my heart ache.
Daily Inspiration
Put your ear down close to your soul and listen hard.
Anne Sexton