August 8
.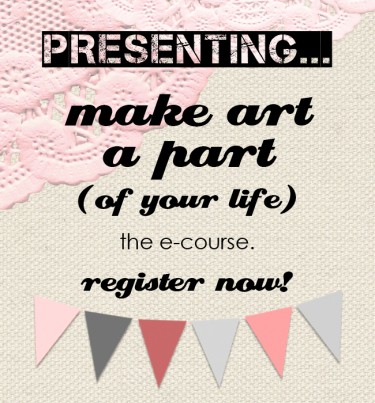 I signed up for the Make Art a Part (of Your Life) e-course by Kaitlyn Webb Patience, author of the blog isavirtue.  The course is divided into 10 sections.  The "creation" section is divided into 8 weeks, each week offering an opportunity to try your hand at a different theme or art form.  My plan is to show you some of the projects that I create during the next 8 weeks and post thoughts I have about the subjects that Kaitlyn introduces.
I'm taking this course because I was intrigued with Kaitlyn's mix of fine art and crafts.  I feel intimidated by the world of fine art and comfortable in the world of crafts.  I want to bring those two worlds closer together because I believe one will inform the other.  I also appreciate Kaitlyn's encouraging us to make art a part of every aspect of our lives.  I've always appreciated beautiful things, and I know what I like.  I am very eclectic and sometimes quirky and whimsical in my tastes.  I love color.  I want to encourage and develop this sense of continual learning and appreciation because I think it is vital to a healthy and vibrant life.
If you'd like to participate in this e-course, you may register at any time.  Once registered, you'll have access to the full course for one year.  You can complete it at your own pace.  The cost is $45.00 and you can sign up here.
Last week, I announced my first give-away, a copy of Patti Digh's book, Four Word Self Help: Simple Wisdom For Complex Lives.  And the winner is…Judy Jones!  Congratulations, Judy, and thank you for commenting.