August 22
.
I'm working my way through the e-course, Make Art a Part (of Your Life).  This week, I read through the section on "appreciation."  Kaitlyn points out that if we dislike a piece of art, it's usually for one of two reasons, (1)  It's unfamiliar to us and we don't understand it…it makes us uncomfortable, or (2) We don't like it viscerally…it doesn't please us or appeal to us.  Kaitlyn encourages us to determine the reason for our response.  We may not change our mind if it's a visceral reaction, but if our reason is because we don't understand it, that can be remedied by learning a little more about the piece, the artist or the process.
Each section of the e-course includes an "interaction" question or two.  In this section on "appreciation," Kaitlyn presents two pieces of art, one by Jackson Pollock and one by Lee Price.  I'll be answering some of the "interaction" questions on my blog posts, but one of the feature of the e-course is the opportunity to email Kaitlyn your responses.  This particular exercise, because of the length of my answers, made more sense to email to Kaitlyn.
The Jackson Pollock piece made me think of the movie, Pollock.  Has anyone seen it?  I'm going to watch it soon.  Do you have any other movies about art or artists that have been helpful?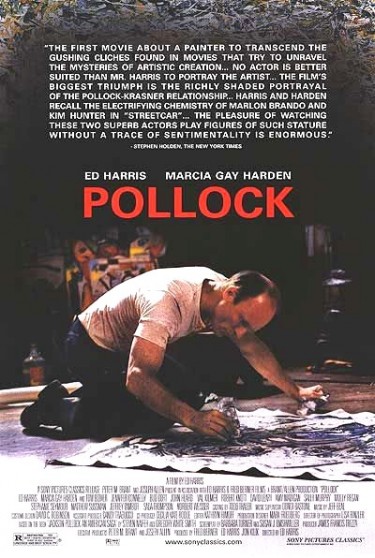 Kaitlyn encourages keeping an open mind when learning about and appreciating art.  She shares ten questions she uses when experiencing art with children.
1.  What do you see?
2.  What else do you see?
3.  How does it make you feel?
4.  Why does it make you feel that way?
5.  What do you think the story is (if there is one)?
6.  What do you think happened right before this "moment" occurred?
7.  What do you think the artist was feeling?
8.  If you don't recognize any real life shapes, then what do you see?
9.  Do you like this?
10.  Why do you like it or not like it?
Aren't those great questions!  This would make a great journaling exercise.
This week's creation exercise was graphic design.  Kaitlyn gives you the choice of 3 projects.  I was unable to download my free trial of Photoshop because I think my computer is getting ready to die and my netbook can't handle the download; but in the spirit of learning something new on the computer, I spent time learning how to create a treasury on Etsy.  Here's my first one:
If you'd like to participate in this e-course, you may register at any time.  Once registered, you'll have access to the full course for one year.  You can complete it at your own pace.  The cost is $45.00 and you can sign up here.  Kaitlyn also had a wonderful blog, isavirtue.