November 11
.
This movie made me consider a historical character in a new way.  Opulent and visually stunning, Marie Antoinette not only lets you see the excess of the French court before the revolution, it allows you to see it with contemporary eyes through the use of 80's New Wave music and energetic cinematography.  What makes this tragic fairy tale truly interesting, is the empathy you feel for Marie Antoinette, a teenage girl who was sent to the French court to marry a young boy who should never have been king.  Directed by Sophia Coppola, Marie Antoinette captures this ill-fated life in a fascinating manner.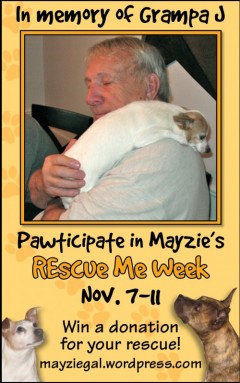 This week, in addition to the Art Every Day Month challenge, I'm participating in Mayzie's Rescue Me Week challenge.  Mayzie is the author of the most brilliant, Mayzie's Dog Blog, and she is going to have a drawing on or about November 16 and award 5 rescue groups $100 each!  Mayzie is doing this in honor of her Grampa J who's love of animals inspires his family to this day.  I'm playing for Allies for Greyhounds of West Michigan, the group who rescued Freedom, Casper and Nikki.  This is the final day of the challenge and today, I'm featuring Preakness Prince (aka Prince).
Prince is currently in a foster home, and here's what his foster mom has to say about him:
"Prince…oh he's just so sweet and loving and playful. He loves to be near his people. He has a spot right next to my computer chair that he likes to lay in. He occasionally stands up every once in a while waiting for you to pet him. He's learning the house routine very quickly. He doesn't mind his crate and has been crated for 8 hours with no problems. He pottys on lead, gets along with all the other critters here…lizards, fish, dogs, cats. He loves to go for rides and tolerates grooming very well (bath, nails, ears). He can sometimes be a bit unsure at first, the first day he was here he was a bit unsure, by the second he was playbowing at me to play with him. It just takes him a few to warm up…but don't let that deter you…This Prince can't wait to meet his new royal family!"
To find out more about Prince and other Greyhounds waiting for their forever homes, go the the Allies for Greyhounds of West Michigan website, click "Adoptable" on the left-hand side and scroll down the list.  If a dog is in foster care, you can click on their picture and you'll see a link that says "Foster Profile."  The Foster Profile will give you even more information about that particular dog.  Found one you want to join your family?  Click on the "Apply" link on the left-hand side and fill out an application.
 Art Every Day Month – Day 11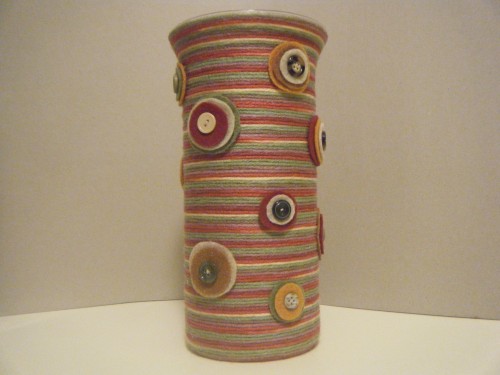 Variegated Yarn Vase