May 30
.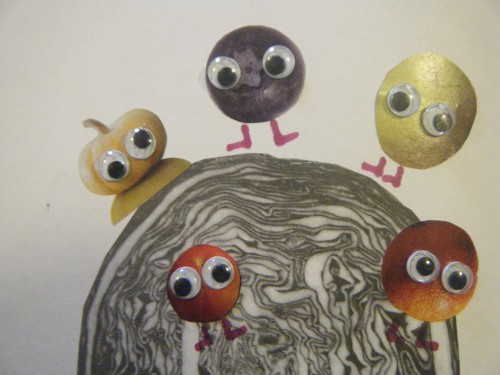 Continue this picture.
(I took the picture of half a head of cabbage and turned it into "Planet of the Fruit People.")

This is my final post working with Mess by Keri Smith.  I'm not done playing and making messes, but I'll announce the new book I'm going to read and work with next week.  Mess was better than I anticipated.  I had the general idea that it would be "good for me," but it was "really good for me."  Here's what I'm taking away:
1.  It's REALLY important to give myself time to play.  NOT work on projects, NOT increase my skills, JUST play.
2.  When I play, I won't like most of what I come up with.  Most of it will be a mess.  But ever so often…something wonderful appears.
3.  Playing is for me.  Playing is healthy.  Playing limbers up my mind.
Smear something here with your hands purely for the tactile sensation.
(I smeared pink pearl paint, and I have to admit…it did feel nice.)
1.  Take the image to the right and cut it into pieces.
2.  Rearrange the image to create a new image entirely.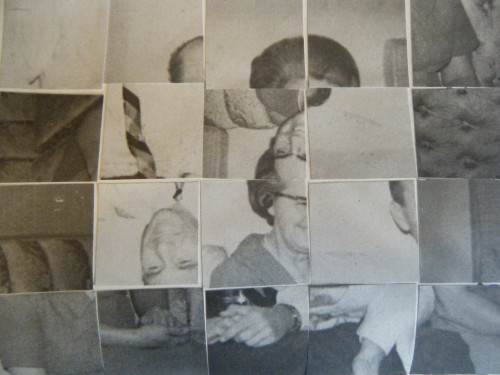 (I call it "Family Deconstructed.")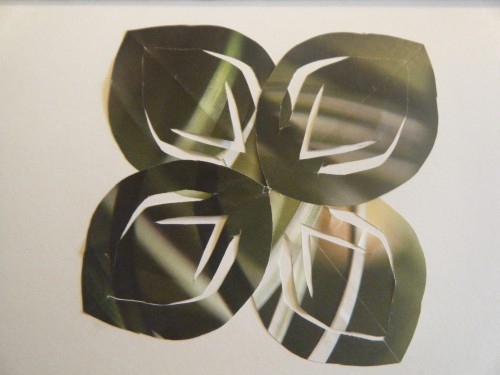 1.  Fold page several times.
2.  Make random cuttings with scissors.
3.  Unfold.
4.  Repeat with different folds.
(I used magazine pages.  Several of them fell apart because I cut too much.  I thought this one was lovely.)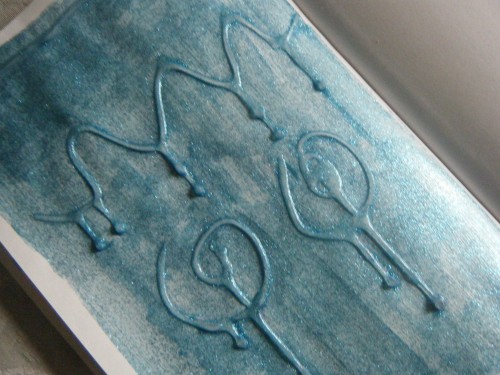 1.  Apply a horizontal line of white glue to the top of this page.
2.  Support the book somehow so the glue runs down the page as it dries.
3.  Once it is dry, add a coat of ink or paint overtop.  Let dry.
4.  Sand the page slightly to bring out the glue shapes.
(I didn't feel my first line dripped enough, so I added some more.)
Keri has a new book coming out soon.  I can't wait!