May 9
.
Alter this image by using a variety of techniques (e.g., scrubbing, tearing, sanding, etc.)
(I painted over the letters with glitter paint, sprayed it with fabric paint and "framed" it with metallic spray paint.)
This month, I'm working my way through Mess by Keri Smith.  The method behind Mess is:
1.  To throw you into a place where you have little or no control over the outcome.
2.  To work with a variety of materials in an exploratory fashion.
Going into this, I thought my biggest take-away would be to loosen myself up.  That does happen.  This book throws you into exercises that are uncomfortable if you like to control outcomes; BUT what I found myself thinking about most this week was how little time I allow myself to play.  Working through the exercises was just plain fun, and I realized that I never take the time to play for no purpose other than play.  That's my take-away this week…I want to play, and I think it will change who I am.
Here are a couple of my favorites from this week…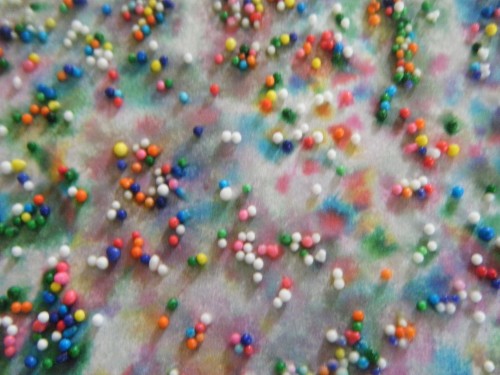 1.  Soak this page with water.
2.  Try to write on it
Alternate:Â  Drop ink onto wet page.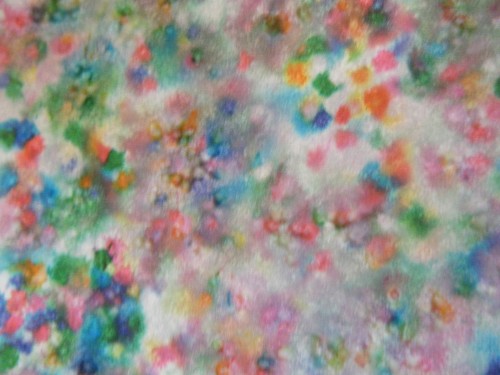 (I sprinkled the page with nonpareils, then wiped them off.)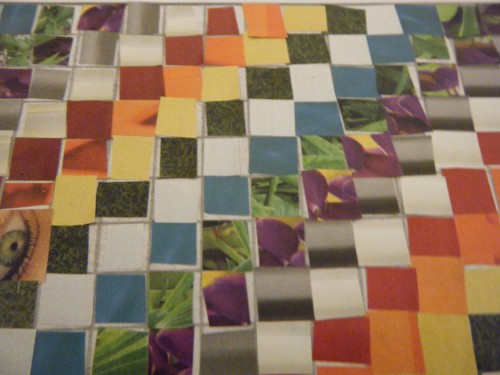 1.  Select a series of ten colors in any medium.
2.  Fill in each square in this grid in some kind of regular sequence.
3.  Insert a mistake somewhere.
(I used strips from a magazine. Can you find my mistake?)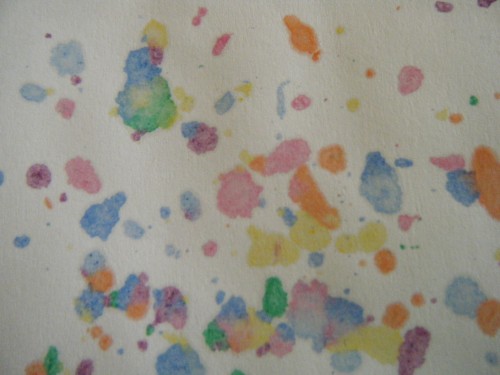 1.  Take a couple of crayons.
2.  Scrape the crayons with a knife to create shavings.  Place shavings in middle of the left-hand page.
3.  Fold the page in half.
4.  Using an iron on a low setting, go over the folded page with a few quick passes until the wax melts.
5.  Open page to reveal design.
(I followed the instructions on this one.  Pretty, isn't it?)
Create a tangle using some kind of string-like material.  Affix it here.

(Little bear thought it would make an awesome wig, so she snagged it before I could glue it in my book.)