May 23
.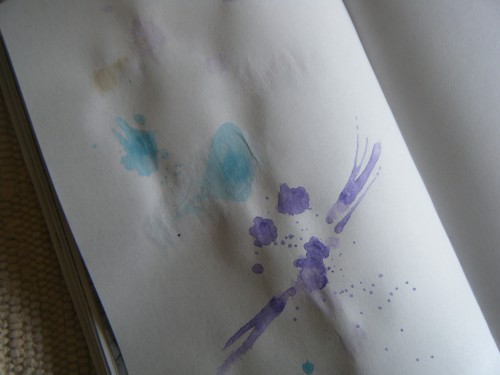 1.  Spill a substance here (some things that work well are coffee, tea, etc.).  Let it dry.
2.  Look for shapes in the dried substance.  Draw things based on what shapes you find (faces, characters, etc.).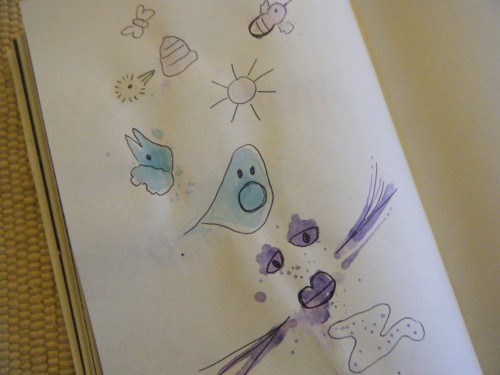 (Drip Doodles)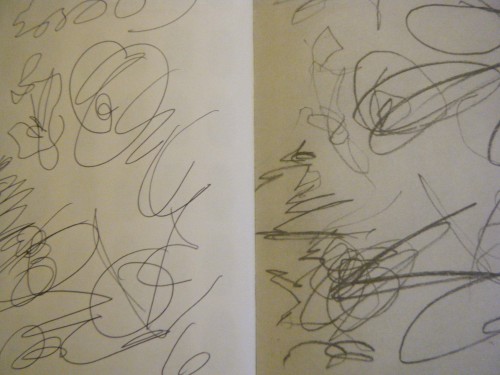 Re-create these lines.
(The page on the left is mine; the page on the right is what I was re-creating.)
Color this in with your eyes closed (or in the dark).
(I used crayon and colored it in, in the dark.)
Trace this line as fast as you can for several minutes.
(Oops, I think I only did this for about a minute.)
1.  Use this page to sweep up dirt in your room.
2.  Find a way to contain the dirt here.
3.  Use the dirt in an art piece.
(I did #1 and #2, but I'm going to leave it at that.)
This month I'm working with the book Mess by Keri Smith.
The past two weeks, I've shown you some of the exercises I've done and that I kind of liked.  This week, I'm showing you some exercises where I thought:
"I can't draw."
"That was stupid."
"That's ugly and was a waste of time."
"Okay."
"Yuck!"
I wonder if while looking at any of these YOU thought, "Wow, that's neat."  One of the things about opening yourself up to a process like this is just that…some of the play inspires you and some doesn't; but you never know unless you take the time and try it.