March 5
.
There's a new trend sweeping Blogville…the Mini-Me!
Freedom, Casper & Nikki Mini-Me's
Where do Mini-Me's come from? They are the handiwork of Lynne who writes the blog Dip-Dip and the Bridge. Lynne is Dinah, Bridget and Elliot's mom. She also has an Etsy shop called Handmade Gifts By L with even more of her lovely crocheted creations. Let's look at our Mini-Me's.
Freedom
Casper
Nikki
Each Mini-Me is a custom made to look exactly like Big-Me. Let us show you.
Freedom's crooked ear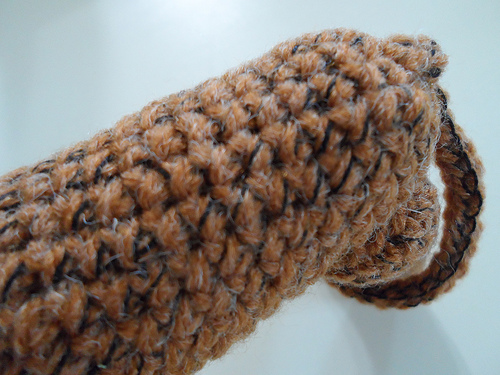 Freedom's beautiful brindle fur
Casper's spotted ears and brindle patches
Nikki's white chest
They even behave like the Big-Me's.
Mini-Me Freedom showing Mini-Me Casper that she's in charge.
We love our Mini-Me's! Thank you, Miss Lynne!
Anyone can have their very own Mini-Me. Just contact Lynne at chi-chigirls86@hotmail.com.
Note from mom…
Isn't a blog post a wonderful thing? You just choose the pictures where everything looks nice and well-behaved and you have a lovely little blog life. But here's what was really going on.
NEW TOY! Where's the squeaker?
NEW TOY! Let's toss it around and do zoomies with it.
It's not a hedgehog. I could care less.
Note: No Mini-Me was harmed in the writing of this post.
Additional Note: I am honored that Roxy the traveling the dog is featuring my work on Artsy Fartsy Tuesday. Thanks, Roxy!